Becoming A Commercial Drone Pilot: What I Wish I Knew, Part 1 – Training
Editor's note: This is the first article in a series: What I Wish I Knew When First Becoming a Commercial Drone Pilot.
Here, pilot & author David Daly explains what the gift of hindsight has taught him over the years. Stay tuned for more to come!
I've been a commercial drone pilot for five years now. In that short period, the UAV industry has already undergone many changes. In less than a decade, we've witnessed extraordinary growth in the sector, with no signs of it slowing down.
Like most experiences in life, it's easy to look back and wonder how things could have gone differently. There were many things, from learning how to fly (drones weren't always as easy to control as today) to starting my own business, that were challenging.
Often, my only teacher was the school of hard knocks. 
To help you avoid some problems I faced, I'd like to share some insight on things I wish I knew when I began this journey.
Here, I'll discuss the importance of professional training.  
When I began my career in this industry, there were few options for training. For the most part, you needed to buy a drone and figure it out on your own. I believe it was late 2015 when I purchased a DJI Phantom 3 Standard and took off for the first time. 
At the time, the Phantom 3 Standard was pretty high-tech. It had a good camera and could maintain stability, even when flying in light winds. There were many close calls during those first few flights. I almost hit our house several times. To this day, our dogs aren't fans of drones taking off near them.
Eventually, after logging many hours, I could fly without too many close calls. Looking back, my first few hours of stick time taught me a valuable lesson.
Training is critically important to becoming a commercial drone pilot.
The Benefits of Professional Training
While I eventually figured things out independently, it wasn't easy, and would have been much smoother had sought out proper training form the start.
I recommend that new pilots start with professional training. Hiring a professional company to train new pilots has many benefits. Whether it's gaining a better understanding of laws, equipment capabilities, or a wide variety of other benefits, it's a choice you won't regret.
Let's explore a few key reasons, and why they'll give you the boost you need to get started.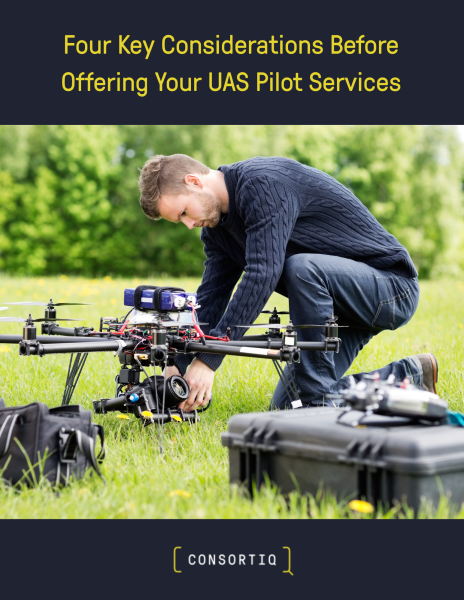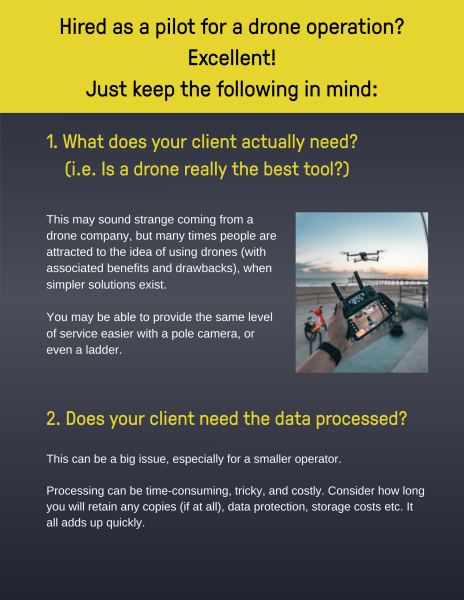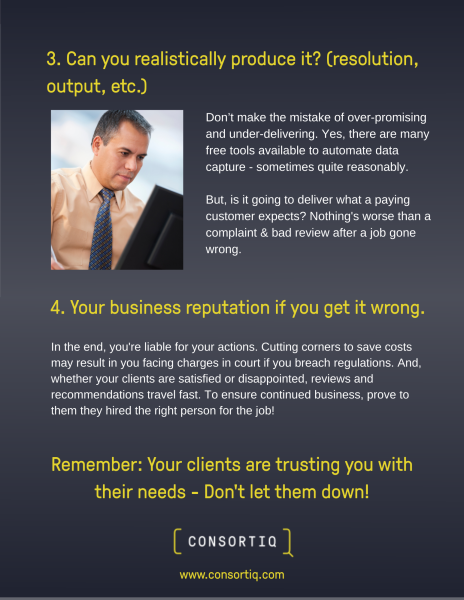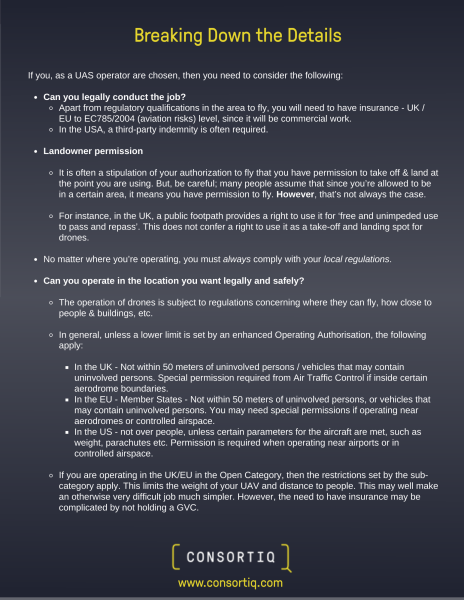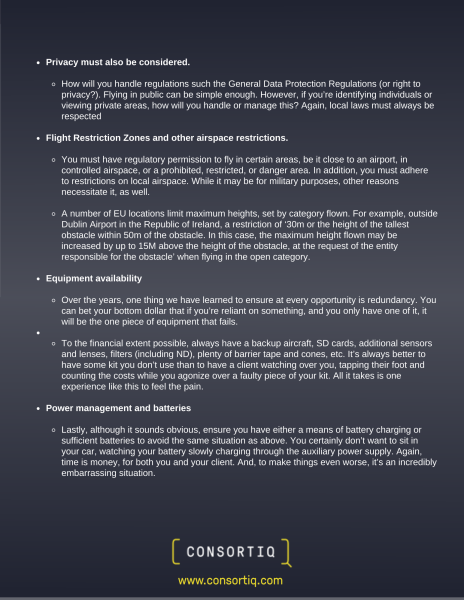 The websites for the FAA and CAA have lots of helpful information for commercial drone pilot hopefuls. Anyone looking to learn more about the material on certification exams can access these sites. 
Let's look at the Part 107 exam, for instance. On the FAA site, visitors can access a study guide for the test. While this guide is helpful, the material is presented in a somewhat dry manner. But, that doesn't mean it's all you'll need.
What happens when you are confused the first time you read about what a METAR is? Where do you go for help? 
When learning from trained professionals, each section of the material is reviewed. You'll have the chance to ask clarifying questions from experts in the field and clear up any confusion. In doing so, you develop a solid foundation of aeronautical knowledge before you ever take to the skies.
When you work with professional trainers, you have the benefit of one-on-one instruction. When becoming a commercial drone pilot, this is incredibly valuable.
For most people looking to become drone pilots, there are bound to be sections of the exam more difficult than others. For instance, many people I've worked with have trouble learning sectional charts the first time they see them. 
The multi-colored charts with symbols and circles everywhere look more like hieroglyphics than an essential tool for pilots.
Good instructors can walk you through each section of testable material. If there are subjects a you find challenging, trainers are there to address the issue. With professional guidance, even confusing sectional charts start to make sense.
By attending proper training programs, you'll be thoroughly prepared for any exam in route towards becoming a commercial drone pilot.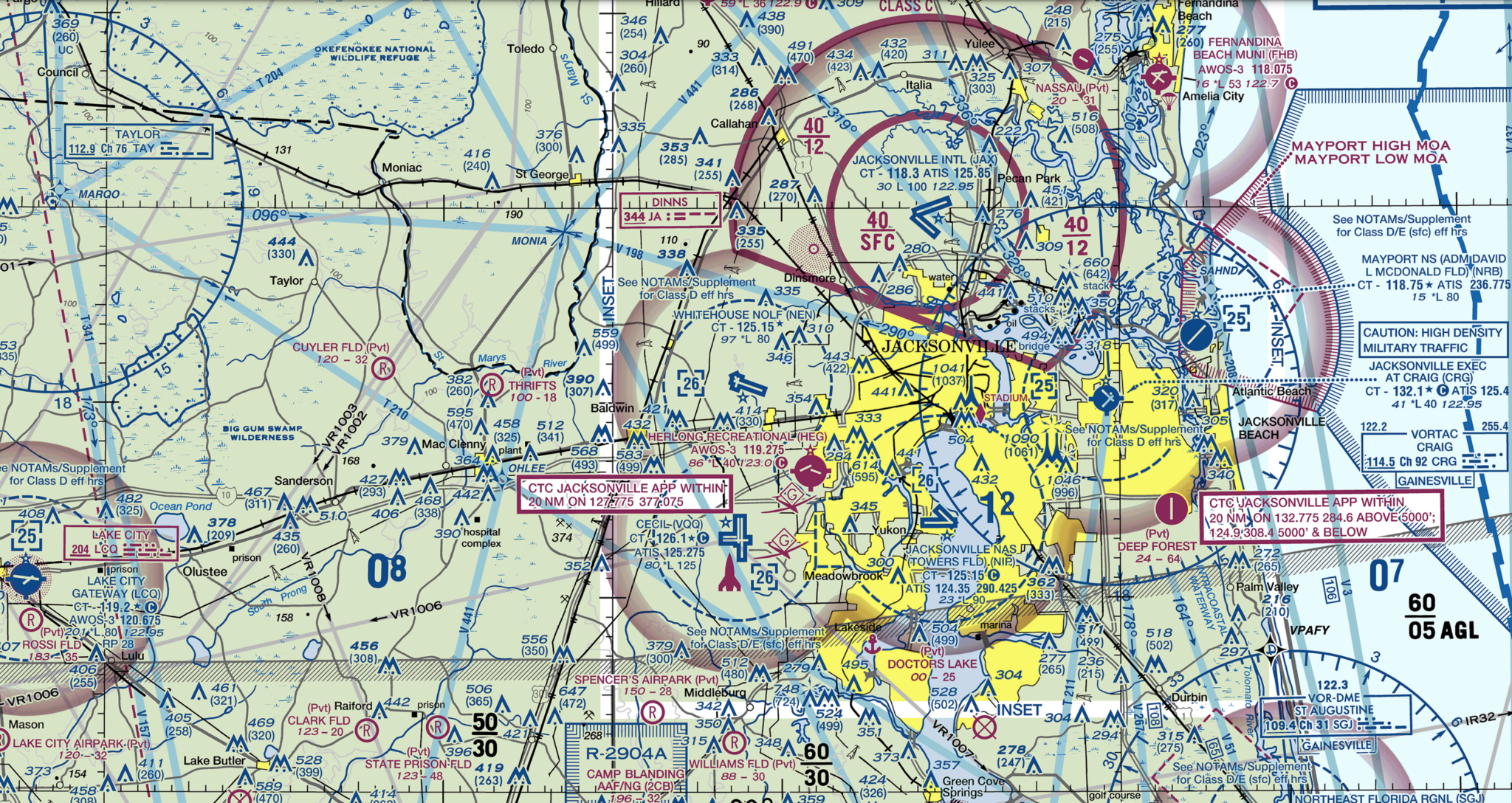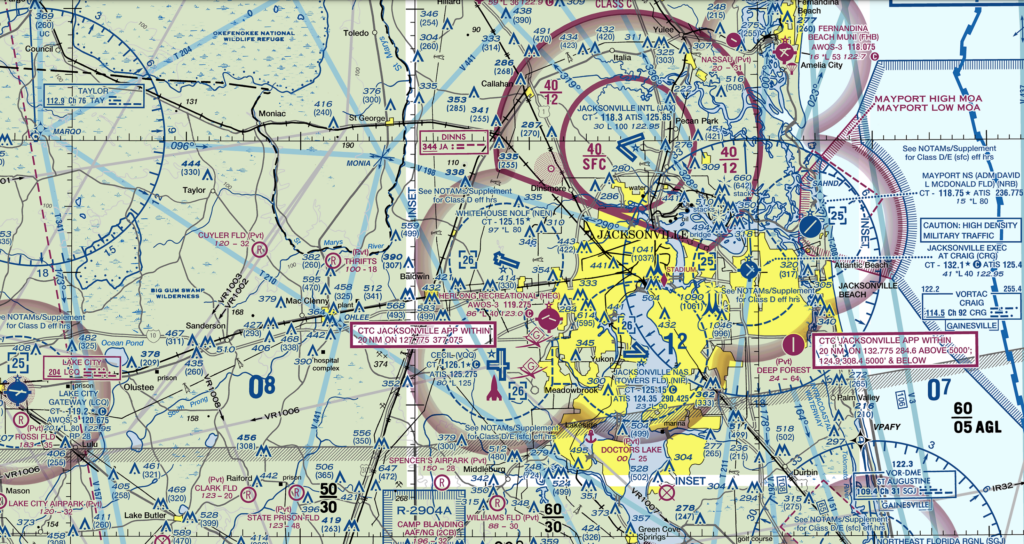 I think every drone pilot has memories of their first flight and nearly running into a wall because they moved the sticks the wrong way.
There's always a moment of panic, and either a near-miss or a crash. Either way, we learned it was best to take our time learning to fly.
When you start with professional training, it almost always includes learning how to fly your drone. Experts teach you what every control does, and you learn to fly safely right from the start.
There's no better way to become proficient. Not only does it remove the stress of learning, you'll have a safe environment in which to learn.
Becoming a Commercial Drone Pilot Means Learning Photography Skills
It's easy to forget that drones are essentially flying cameras.
I've met many pilots who can skillfully maneuver their UAVs, yet never learned to be good photographers. 
Modern commercial drones provide pilots with a wide range of control over the camera. But, if you've never learned about photography, these tools remain little more than a list of features on a spec sheet.
When learning to become a drone pilot through professional trainers, you become an expert at flying and capturing the shots you need. You'll learn about the lens and focal length, shutter speeds, aperture and depth of field, filters, and lighting. 
If you don't learn to embrace being a pilot and photographer, you're seriously limiting your potential as a commercial drone pilot.
After all, the whole point of using drones is to acquire better data, faster. If  you're unable to get quality data with good photographs, you're missing out on a major component.
Taking things a step further, you might want to consider earning TOP certification. The Trusted Operator Program, or TOP, is a program designed to enhance your training and expertise when becoming a commercial drone pilot.
By participating in the program, you'll show improvements in safety, trust, risk management, professionalism, and reliability.
While not necessarily required, by passing TOP certification, you're showing you've gone above and beyond in your training efforts. As such, you'll have a competitive advantage when businesses need to hire a drone pilot.
The bottom line is that if you or your team are ready to start becoming commercial drone pilots, seek professional assistance.
The UAV industry has grown enough to where the school of hard knocks is no longer necessary. You'll avoid many headaches, and help ensure a successful start to your UAV career.
—
Are you ready to begin your journey in the UAV industry? If so, Consortiq can help you take you where you need to go.
With headquarters in both the UK and US, Consortiq's team of trusted professionals is ready to help you get started today. Just contact us using the form below and we'll be glad to help!
Are you ready to find your better way?
Ready to begin your journey towards becoming a commercial drone pilot? Contact us today for the training you need!