Choosing Commercial Drone Equipment: What I Wish I Knew, Part 2
Editor's note: Choosing Commercial Drone Equipment is the second article in a series: What I Wish I Knew When First Becoming a Commercial Drone Pilot.
Here, commercial drone pilot & author David Daly explains what the gift of hindsight has taught him over the years.
Stay tuned for more to come!
Choosing commercial drone equipment can feel like an intimidating task, especially if you're just starting out. As a commercial drone pilot, you have a huge number of options available. This is particularly true when purchasing the drone itself (as opposed to cameras, sensors, etc.)
The market now offers pilots everywhere a number of high-quality platforms.
However, if you've been a commercial drone pilot for more than five years, or even worked around the industry, you know this wasn't always the case. Years ago, there weren't many options for drones, and several were near impossible to keep airborne for more than a minute or two.
Now, even some of the latest entry-level drones almost fly themselves. The camera quality is excellent, and keeping your drone steady is effortless.  
Looking back at the start of my career in this industry, I wish I had someone to talk to about many things – especially choosing commercial drone equipment.
If you're new to the industry, I'd like to share a few of the lessons I've learned along the way. There is, of course, something to be said for personal preference, so I'll try not to point out specific brands. After all, there are plenty of high-quality manufacturers out there, with each offering a variety of drones.
Instead, let's focus more on a few key areas to keep in mind when making your decision.
In part two of this series, let's explore some of the major mis-steps and must-haves of the business. 
Know Your Goals Before Choosing Drone Equipment
Some beginning pilots, or organizations seeking a drone program, want to buy a drone first, and then decide what they can do with it.
Don't be tempted to fall into this trap.
Before even considering purchasing a drone, you'll need to decide why you or your organization needs it. After all, not every drone is right for every situation.
There are a wide range of commercial applications for drones. Many pilots, including myself, serve clients in multiple industries. Your drone equipment should support the work you'll need to perform.
Some drone services, such as industrial inspections or precision agriculture, require specialized equipment.
If you're going to operate in these sectors, you'll run into trouble if you only have a standard RGB camera equipped.
Whether for you or someone else, decide on the sector or sectors of the UAV industry you want to serve, then find a drone.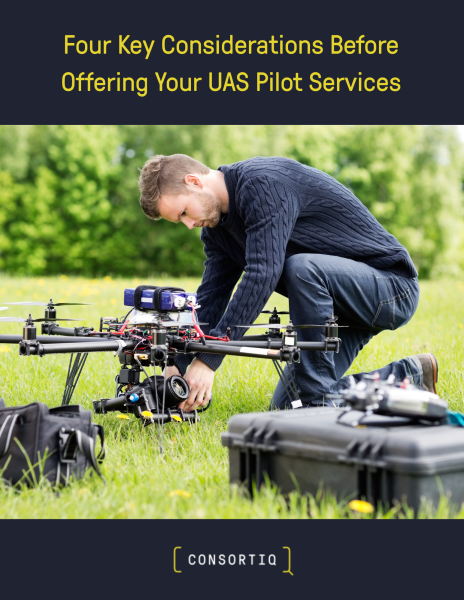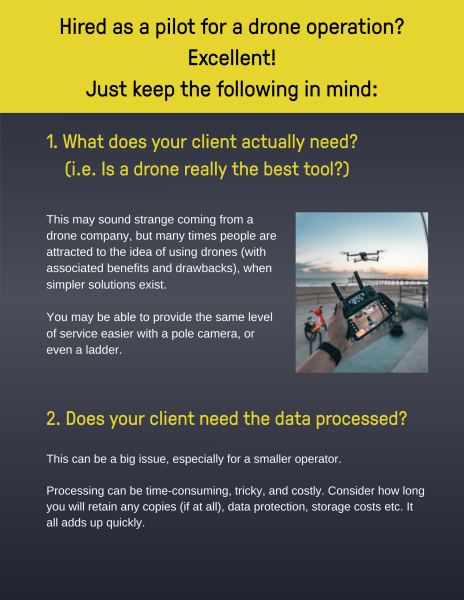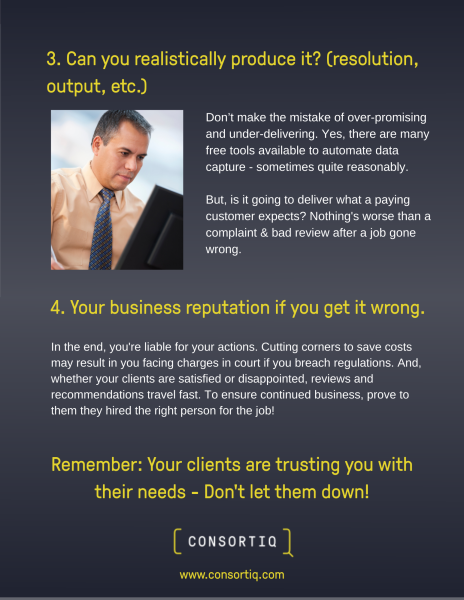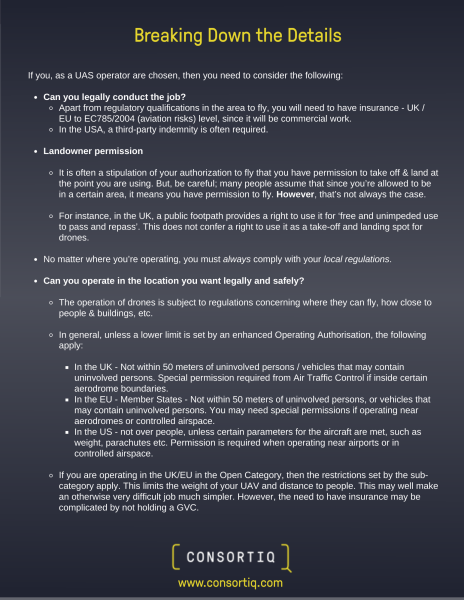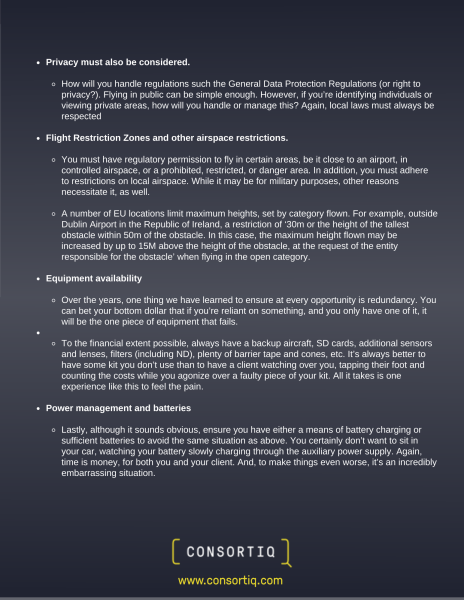 Selecting a Drone for Commercial Work
Another lesson many new pilots learn the hard way is that not all drones are created equal.
Marketing departments try hard to make inexpensive drones appear as though they can duplicate the performance of higher-end competitors.
Companies throw out specs like high megapixel cameras, or use 'buzz words,' like 3-axis gimbal, follow-you technology, and obstacle avoidance. While these really are important features to consider, on low-end drones they probably won't work nearly well enough for commercial operations, if they work at all.
When you compare the price of these drones (typically $100-$200) to big OEMs like DJI and Skydio, they sound like a real bargain. But, as the saying goes, if it sounds too good to be true, it probably is.
Such product claims are often exaggerated or false.
When selecting a drone for commercial work, look for these must-haves:
A high-quality camera
Stabilization
At least 20 min. of flight time
Obstacle avoidance
3-axis gimbal
At least a mile of transmission distance


And, when selecting a drone for commercial work, expect to pay just over $1000, for a decent entry-level drone.
When in doubt, ask experts in the field for advice, especially for larger commercial drone operations or fleets.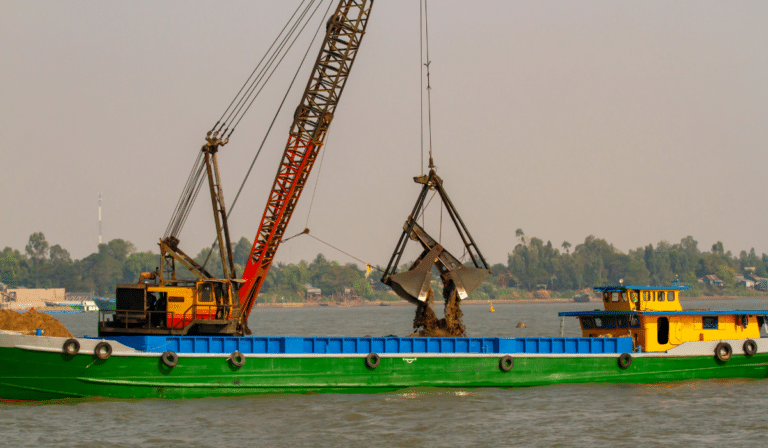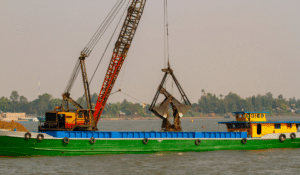 Blog
They can be massive, expensive undertakings. Fortunately, drones can help dredging operations in numerous ways. My first foray in to the halls of academia (at
Read More »
Choosing Your Drone Payloads for Commercial Use
In most cases, commercial drone pilots operate flying cameras.
While payloads may include additional devices, such as laser range finders or gas detectors, most drones carry at least one camera.
RGB, thermal, multi-spectral, LiDAR, and other optics are all used to collect data of various sorts. This data then paints a picture that represents an area in a moment of time.
It's a drone's unique ability to collect data faster, safer, and more efficiently than other methods that we use them in the first place.
For this reason, payload selection is perhaps more important than drone selection.
While some drones allow you to switch between different payloads, many don't. For drones with a built-in camera, it's even more critical to ensure your payload can perform the work you need it to do. 
For instance, I once met a new commercial drone pilot who had just purchased their first drone.
They wanted to provide thermal inspections to the oil and gas industry, because they'd heard the work earned more than standard photography jobs, such as real estate projects.
Unfortunately, they'd purchased a drone whose thermal camera was well below the resolution needed to work in the oil and gas industry. It was an expensive lesson to learn.
When selecting payloads, ensure the optic or measuring device you purchase matches your needs (multi-spectral for farming, high-resolution thermal for industrial inspections, etc.).
Then, dig into the specifications, such as resolution, frames per second, the type of sensor, etc. Take the time to research your payloads, and never hesitate to ask for advice.

With some systems costing nearly ten thousand dollars or more, choosing commercial drone equipment should be something you take seriously.
Additional Commercial Drone Equipment to Consider
There's simply too much to cover in a single article when it comes to specifics on choosing additional commercial drone equipment (landing pads, tablets, DSLR cameras, RTK base stations, ground control points, etc.).
Once again, you'll need to study your niche industry & related gear, and go from there.
That said, for many applications, you won't need to spend excessive amounts of money on extra equipment. At least, not when you're getting started.
Depending on how you branch out, that could change in the future.
When I started, I bought everything I thought I may need in the field one day. As it turned out, I probably never touched 30% of what I purchased when I became a commercial drone pilot in 2017.
Get the gear you need to produce a consistent, quality product and nothing else. As you move forward, buy what you need, as you need it.
I wish I had known more about commercial drone equipment when I started.
Thankfully, these days there's tons of information available now to new pilots.
If you want to help someone new into the industry, make sure to assist with equipment selection. You'll serve as an excellent example to others while strengthening the UAV industry as a whole.
The bottom line is that if you or your team are ready to start becoming commercial drone pilots, seek professional assistance.
The UAV industry has grown enough to where the school of hard knocks is no longer necessary. You'll avoid many headaches, and help ensure a successful start to your UAV career.
—
Are you ready to begin your journey in the UAV industry?
Whether you're in need of certification training, or developing a drone program for your organization, Consortiq can help you take you where you need to go.
With headquarters in both the UK and US, Consortiq's team of trusted professionals is ready to help you get started today. Just contact us using the form below and we'll be glad to help!
Are you ready to find your better way?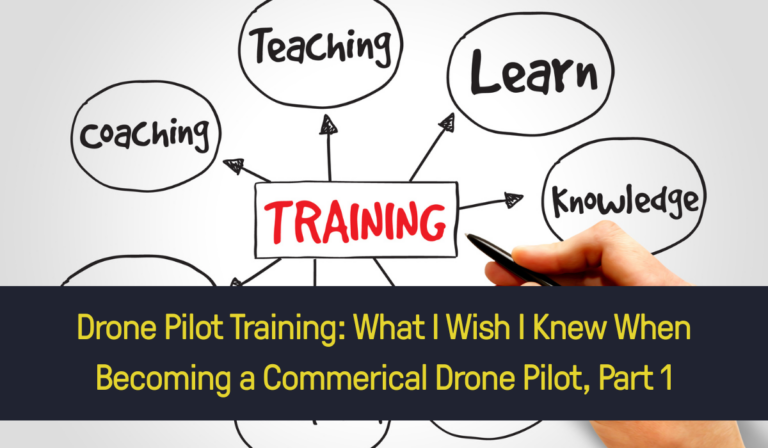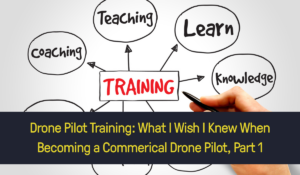 Blog
Editor's note: This is the first article in a series: What I Wish I Knew When First Becoming a Commercial Drone Pilot. Here, pilot &
Read More »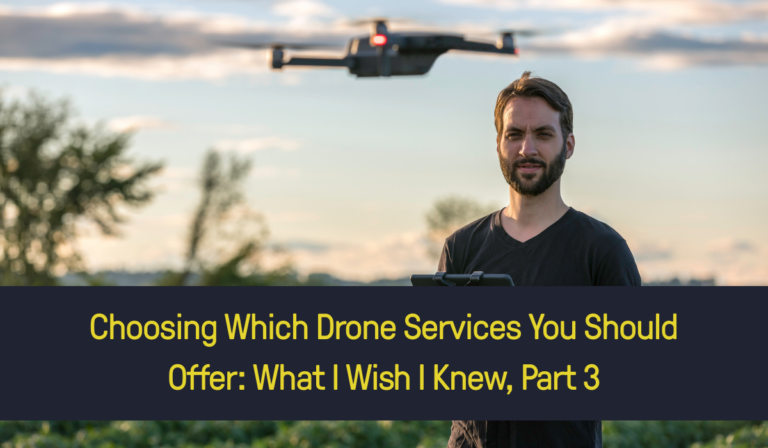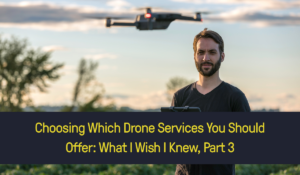 Blog
Editor's note: "Choosing Which Drone Services You Should Offer" is the third and final in a series: What I Wish I Knew When First Becoming
Read More »
Ready to begin your journey in commercial drone operations? Contact us today to get started!