Why Your Next Cell Tower Inspection Needs a Drone
With over 400,000 cell towers in the United States alone, keeping a cell phone network up and running is no small task.
There are constant technology upgrades, increased demands on data speed, and a desire for better and better network coverage – not to mention maintaining the cell towers already in use.
On average, these towers require inspections once every three to five years, working out to at least 80,000 cell tower inspections per year.
As if that weren't tough enough, many of these cell towers are in remote locations, making access difficult.
All of this requires a small army of inspectors making sure operations keep humming along smoothly.
The balancing act between scheduling inspectors & equipment, customer needs, and safety is daunting.
The answer to such a pressing challenge?
Well, over the last few years, drones have become indispensable tools in this inspection process.
Though uncrewed technology has more than proven itself, many inspection teams still haven't adopted it yet.
If you're looking for a faster, safer, more efficient way to complete your next cell tower inspection, the solution is easy.
It's time to make the switch to drones.
Increased Safety of Your Crew
Clearly, there's no way to put a price on the lives and safety of your team.
But, when accidents occur (and unfortunately, they do), they're both life-changing and expensive, for everyone involved.
A cell tower inspection exposes people to one of the deadliest threats in the work environment: falls.
Every year, hundreds die from these tragic events.
Though these deaths aren't limited to the telecommunications industry, they highlight the very real danger that exists.
So, what can you do to combat the problem?
Though fall protection equipment and proper safety procedures certainly help, anytime someone climbs 100 feet in the air, they're exposing themselves to danger.
When you use drones, however, the need for workers to endanger themselves is eliminated. 
No matter how tall your tower is, a drone can quickly scale the required height.
Pilots can rapidly move up and down the tower and conduct a detailed analysis of the structure without ever having to leave the ground.
With uncrewed technology as advanced as it is today, putting people at risk simply isn't worth it.
Video shows digital twin of a cell tower captured by Consortiq drone pilots.
Better Cost Efficiency of Your Cell Tower Inspection
Looking to save some money? It might be easier than you think.
Though safety is the first and most important benefit of using drones, it's far from the only one.
That's right, drones don't just improve safety – they save you money, too.
With cell towers coming in all shapes and sizes, an inspection team could take several hours – even a whole day – to inspect a single tower thoroughly.
Though hourly rates vary from one location to the next, traditional inspection crew members typically make between $65 to $80 per hour. And that's just the hourly wage.
In addition to the hourly cost, there are additional costs you need to account for, too. Expenses like worker's comp insurance, medical coverage, and unemployment add up quickly.
On the other hand, many drone pilots can be hired as independent contractors, avoiding these extra expenses.
While drone pilot rates vary by location and experience, a drone-based cell tower inspection can be completed in as little as one to one-and-a-half hours.
Compared to the time it takes climbers to complete the same inspection, the cost is drastically lower.
In fact, in many cases, drones can decrease the inspection cost by up to 50%.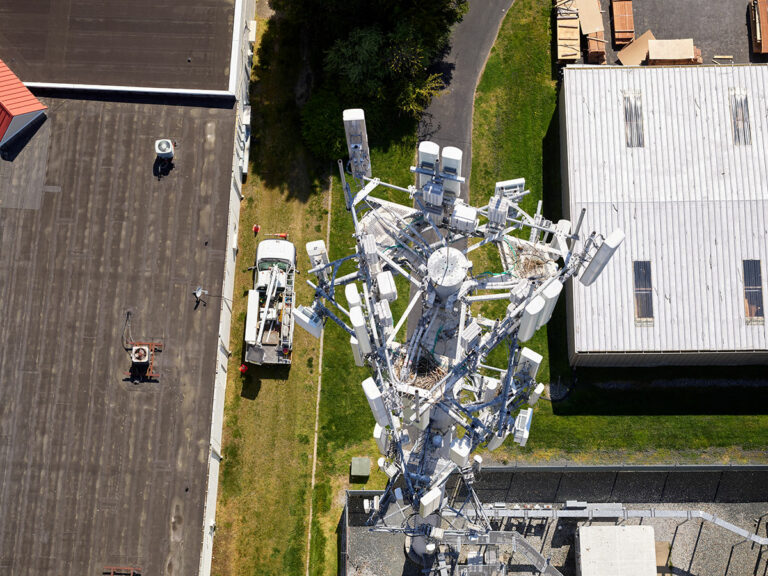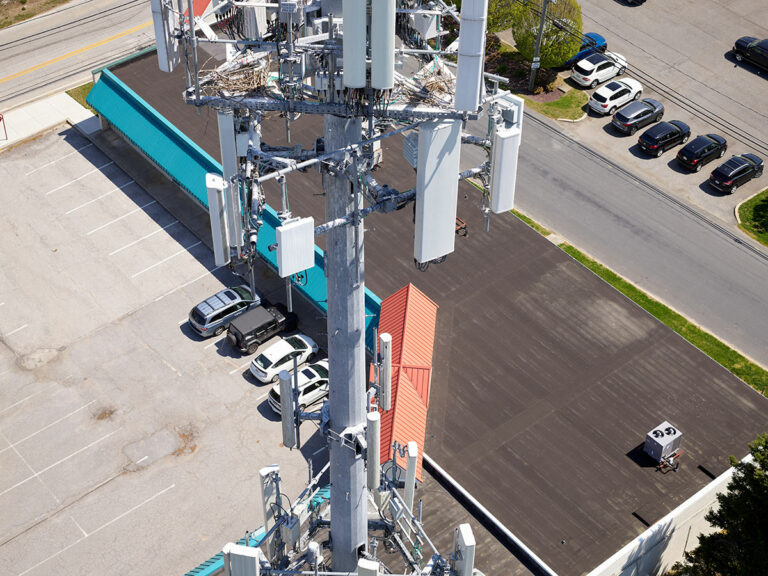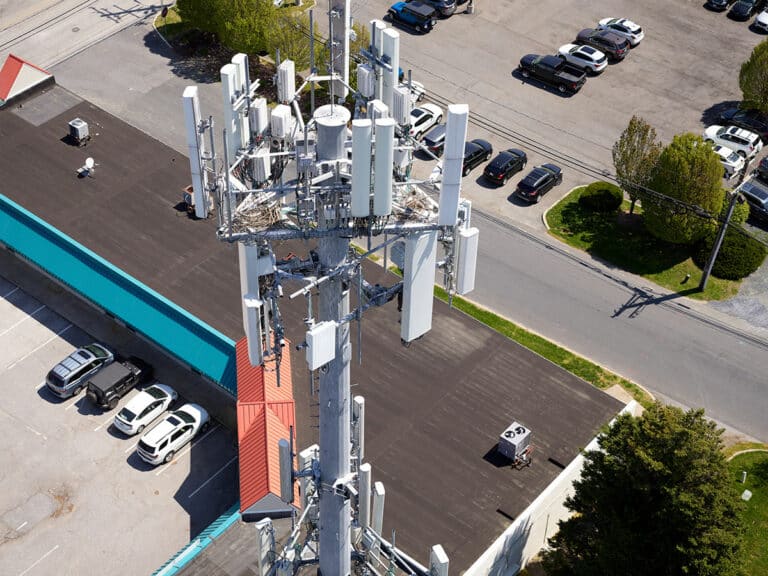 As if safety and savings weren't enough, the data collected by UAV inspections is absolutely incredible.
With the right setup, it's even better than what a human inspector can identify with their eyes alone.
Drone optics packages can range from standard cameras to more advanced setups, offering LiDAR and thermal capabilities.
As these drones fly around a structure, they collect video and images with incredibly high resolution.
And, when the drone is also equipped GPS technology like Real-Time Kinematic or Post-Processing Kinematic (RTK or PPK), the data collected achieves survey-level accuracy to within 1 cm.
Coupled with LiDAR and thermal imaging, the real-time and post-inspection analysis gives you all the information you need to make highly detailed reviews of your cell towers
Additionally, the datasets can be kept to monitor tower and asset conditions as they change over years. Whereas, with a physical inspection, you tend to only get records of what's deteriorated to a certain point.
Lowering the risk of worker injury and decreasing costs, all while getting better data makes adopting drones for cell tower inspections an easy sell.
If you've been reluctant to make the move, consider how these benefits will improve your organization.
Industry professionals can help you decide on the best UAVs and training for your team. Or, our team of highly skills uncrewed pilots will perform the inspections for you.
Contact experts today to learn more about how drones can improve your workflow.
**
About Consortiq
At Consortiq, we help you find a better way with drones and other technology, from consultation and program implementation to actually doing the work for you.
Whether you're in need of building scans, digital twins, aerial surveys, gas-leak detection, or something else, our experienced team has the solution you're looking for.
Ready to learn more? Just complete the form below to schedule a risk-free consultation!
Ready to Integrate Drones Into Your Organization? Contact Us Today to Get Started!