How Drones Improve Crime Scene Investigation, Accident Reconstruction
Each year in the United States, over 33,000 traffic accidents result in at least one fatality. Additionally, in the U.K., more than 26,000 people are killed or seriously injured annually.
In each case, specially trained professionals are responsible for collecting photos and information to reconstruct the accident. Typically, this is the job of first responders, or people with a scientific/engineering background.
When an accident happens, particularly a fatal one, accident reconstructionists arrive on the scene. Using a combination of physics, vehicle dynamics, mathematics, photogrammetry, and computer applications, they paint a picture of what happened before, during, and after the incident.
In addition to traffic accidents, crime scenes present law enforcement professionals with a similar challenge, but more complex.
Evidence must be collected to capture the crime scene accurately, hopefully leading investigators to those who perpetrated the crime. Photos, measurements, and evidence needs to stand up in a court of law, so everything regarding the scene must be as accurate as possible.
With so much riding on collecting precise data, choosing the best tools for the job is essential. Whether it's for insurance purposes or criminal prosecution, drones ideally suited for the task.
UAV technology offers users the ability to revisit the site at any time, process the scene faster, and gather highly accurate information for use at any time.
Here's how drones put the pieces together for crime scene investigation & accident reconstruction.
Crime Scene Investigation: Revisiting the Scene
Drones' abilities make them uniquely well suited for photogrammetry.
More often than not, the specifics of an accident or crime scene are best documented with photos. While cameras have captured forensic evidence since the late 1800s, drones have only recently made capturing the entire scene practical and economically possible.
Instead of only collecting still photos, drones have the power to create digital twins of any accident or crime scene to review whenever necessary.
Imagine a courtroom where the jury doesn't just see a photo of a murder victim lying on the ground. Instead, they're able to tour the entire scene through the power of a 3D model.
In another example, an insurance claims specialist might need more information on who was at fault in an accident. Rather than review a report and a few photos, they can use the images and videos, collected by a drone, to digitally view the site as many times as needed to complete their investigation.
Being able to navigate a 3D model adds a whole new dimension to an investigation, and paints a much clearer picture than simple photos.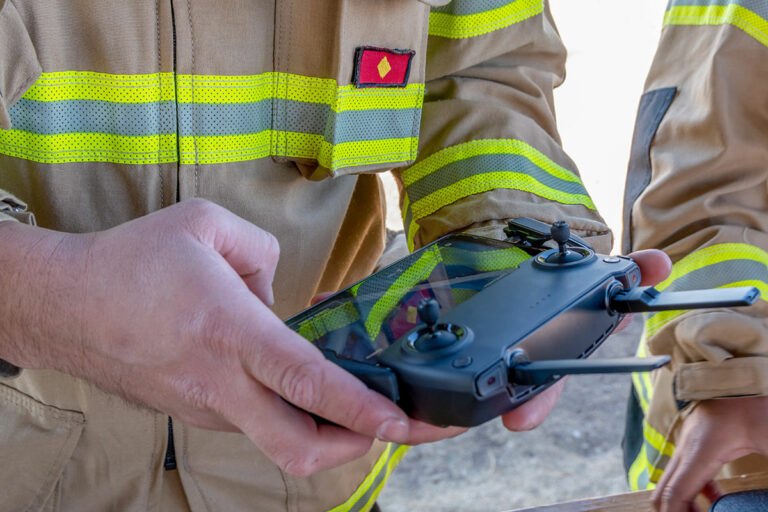 Faster Accident Reconstruction
Until UAV technology started spreading into law enforcement circles, ground-based photogrammetry was a time-consuming task.
Individual photos needed to be analyzed by a technician and pieced together during the investigation after the fact. Now, a number of programs, such as Pix4D, process and stitch images together while still on scene.
In a matter of minutes, law enforcement and accident reconstructionists can capture and review data from any site – all while still in the field.
As drones fly around the accident or crime scene, they can collect photos at different heights and angles, allowing for complete coverage of an area.
Ground-based solutions simply are not as good for this task.
It takes tripod-mounted 3D scanners a far longer time period to complete the same job. Manually needing to set up, take down, move, and set up equipment over and over again takes an incredible amount of labor.
But, since drones move so quickly from place to place, and gather an uninterrupted stream of data, their speed is unmatched.
Thanks to UAVs, their optical payloads, and ever-improving software options, it's possible to have near-real-time duplication of almost any site.
Drones Improve Accuracy of Crime Scene Investigation
If you're using drones for accident reconstruction and crime scene investigation, it's hard to imagine ever going back to traditional methods.
Drones are powerful tools for those in this line of work, because of their accuracy, speed, and ease of reconstructing a site.
If you're in the business of accident reconstruction or crime scene investigation, and you aren't yet using drones, it's time to ask yourself: "What am I waiting for?"
So, which drone is right for you? And, how do you get started? Do you hire out or bring your drone program in-house?
At Consortiq, we help you find a better way with drones, from consultation and program implementation to actually doing the work for you.
Ready to learn more? Just complete the form below to schedule a risk-free consultation!
Ready to Integrate Drones Into Your Organization? Contact Us Today to Get Started!