Drones in 2020: A Year in Review for UAS
As the year comes to an end, it is worth looking back and reflecting on the UAV industry, which greatly evolved in 2020.
The year has been challenging for both people and industries alike. While 2020 could easily be categorized as chaotic, drones have risen to the occasion and fared relatively well.
With COVID-19, massive fires in Australia and the United States, extreme weather events, and the economic toll of it all has led many to believe 2020 is the worst year ever. While there is plenty of evidence to support that view. However, for the drone industry, there's plenty of optimism due to UAV uses throughout the year.
Let's discuss three very noteworthy takeaways.
As the global pandemic started picking up steam, countries worldwide enacted necessary safeguards to curb the virus's spread.
Most businesses needed to pivot in response to the new restrictions. As working remotely became the norm, many companies were forced to take a fresh look at how technology could allow them to operate while still keeping their employees safe.
UAV technology was one of the first to receive increased attention as the pandemic grew. Drones were used for sanitation, public service announcements, and the delivery of medical supplies.
Additionally, benefits such as minimizing the people needed for tasks like industrial inspections, removing people from dangerous situations (to include exposure to the coronavirus), and performing tasks quicker and more efficiently for cost savings became more attractive.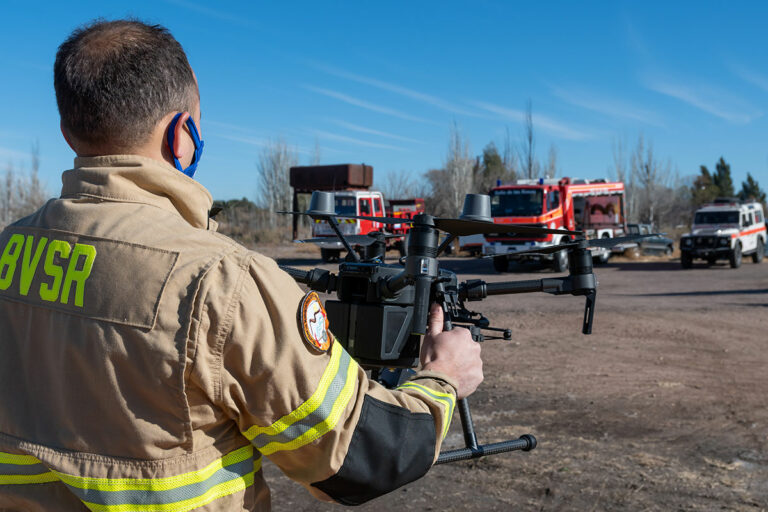 Supportive Regulatory Control
Governments worldwide have tended to err on the side of caution in regards to regulating commercial drone operations.
Safety has, of course, been their primary concern. As is typically the case, necessity creates a willingness for greater flexibility and support. 2020 has undoubtedly been a year where governments have looked to the UAV industry for assistance.
Evidence of this trend can be seen in countries like the United Kingdom, where drone operations, such as those in the Isle of Wight, helped provide needed medical supplies. In November, the British government announced drones providing COVID-19 relief were among the first wave of winners, receiving government funding (£33 million) for ground-breaking aviation projects addressing significant global challenges.
Flexibility in regulatory agencies, such as the FAA in the United States, was also present in 2020. While the FAA didn't bend any of their rules for drones, they did work cooperatively with businesses to maximize the operations within existing structures. Additionally, more Part 135's (package delivery by drone) were approved.
Since the commercial drone industry started picking up speed a few years ago, public opinion has been mixed.
Initially, there was great concern over drones invading privacy and causing safety issues. It was only two years ago when in December 2018, a drone infamously shut down England's second-largest airport (Gatwick) three times in three days due to suspected drone sightings in the area.
This year, however, has done much to improve the public's perception of UAVs. Drone delivery services have been particularly helpful in combating COVID-19 and providing locked down businesses a method to still operate.
For example, Zipline, the second-largest drone delivery company, partnered with Walmart to deliver health and wellness products to residential customers in the United States.
While the scope of these programs is still relatively small, many people are starting to see that drone operations can be safe and beneficial. With new strains of the virus spreading and many areas worldwide experiencing spikes in the number of COVID-19 cases, 2021 will likely provide increased opportunities for UAVs to improve public support further.
While 2020 will undoubtedly be remembered as a challenging year, the drone industry fared better than most.
With drone use cases and adoption increasing, government regulations becoming more flexible, and public opinion of UAVs becoming more positive, the drone industry proved its resiliency. These positive trends are likely to continue into 2021, thus, for drones, the future looks bright.
The team here at Consortiq would like to thank you for reading throughout the year, and we look forward to helping you with your drone operation in 2021. To book a consultation, make sure to contact us using the form below! Also, make check out the rest of our articles, as well as the Unmanned Uncovered podcast, by clicking here.
Have a great holiday and a happy new year!
Ready to Integrate Drones Into Your Organization? Contact Us Today to Get Started!