Drone Mapping in The Case of Ordnance Survey
Mapping terrain is critical for many industries.
Data and discoveries gained from mapping enhance preventative measures and provide details to ensure the feasibility of a project. Many organizations — Consortiq included — are using industry leading tools and innovative ways to accurately and efficiently capture this data.
Back in June 2019, Ordnance Survey, the UK's national mapping agency, announced a framework agreement to provide different types of UAV (unmanned aerial vehicles) services to enhance their capability.
This was to include over 500 sites to survey, each using different techniques. However, one thing remained universally consistent … drone deployment.

Using the correct methods, unmanned vehicles ably capture and present the findings in many ways. For example, orthomosaics, digital terrain models (DTM) & digital surface models, and techniques & sensors can allow for accurate photogrammetry and LiDAR (Remote Sensing) output. 
Combining LiDAR and GIS to analyze and quickly manage the data, while also maintaining very high accuracy, saves time and improves efficiencies… a common goal that all surveying and mapping agencies work to achieve.
All of the above can be realized by using technology that is widely available now, so what about the future?
Last year, the BBC reported that the Astigan, a solar-powered drone, will be used to fly higher than commercial airliners (67,000 ft (20,400m)). Incredibly, the aircraft could circle the Earth for 90 days before it needs to land, capturing data on demand.
According to the article, Ordnance Survey told the BBC that the existing mapping satellites orbiting the Earth cannot provide enough high resolution detail for its maps.
While this remains a massive aspiration for companies like Ordnance Survey to develop new ways and future-proof their offering, they have concerns and challenges which need to be addressed today. One of those, in particular, is to accurately map and record Britain's coastlines.  
Erosion and landslides can change the coastline daily. Thus, to ensure that these changes are captured quickly, and that their data reflects the current coastline, drone technology is utilized.
The UK has over half a billion geospatial features that need to be kept up-to-date. The UAV plays a critical role in helping to map features in rural and urban areas all year around.
LiDAR systems on crewed aircraft and drones are revolutionizing what researchers can find out about data previously unseen using photography and point cloud models.
LiDAR can remove the vegetation and show what lies underneath, something that was unimaginable just a few years ago. 
LiDAR systems have been specifically designed for use in challenging environments. It can provide uniform and dense data in even the shallowest water. By using this remote sensor with a fixed-wing UAS aircraft, you'll ably cover large areas which are otherwise difficult to survey with more conventional tools.
The average LiDAR sensor is typically a costly investment, and ensuring that the right data is captured can be challenging. Consortiq and its sister company, Argentech, have been using this solution for a number of years. 
We now provide state-of-the-art UAS-based imaging and analytics to markets as diverse as agriculture, digital mapping, and oil & natural gas. 
High-resolution photos, combined with LiDAR data, create geospatially accurate maps and models. Without LiDAR, the photos can still be stitched together to create orthomosaics, or used individually for inspection or documentation and planning purposes. This photo is from a bridge inspection in Columbia, South America.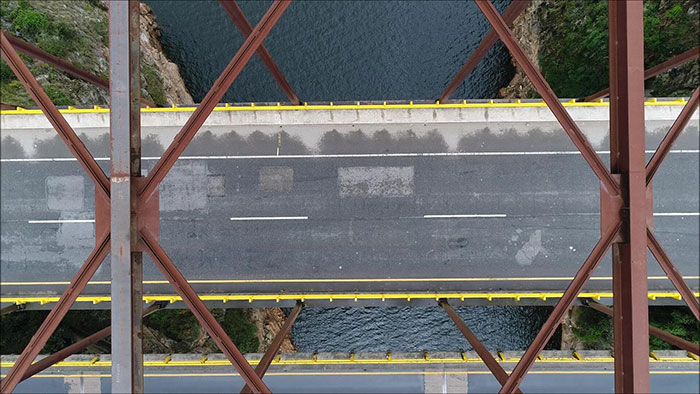 "Aerial LiDAR provides the highest quality data for a wide variety of applications. Argentech (AgTS) offers LiDAR services on both manned and unmanned vehicles allowing us to meet the needs of our customers in the most effective and efficient means possible." Rita Castonguay Hunt AgTS UAS Commercial Services
Even with drone technology, the techniques which enhance how we are presented with usable data advances over time, and UAS-mounted LiDAR is a great example of how blended technologies enable organizations to stay relevant, while collecting the most accurate, detailed information available to them.
With unmanned data services, Consortiq can provide this level of service without any organization having to invest heavily for the technology or platforms.
Our UAS pilots gather the information for you, and they provide the key results and data you need to fully understand what's really going on.
Whether you're looking to start a program, train your team, or simply get the data, we're here to help you reach your goals. To get started, complete the form below!
Ready to Integrate Drones Into Your Organization? Contact Us Today to Get Started!