Could Drone Bridge Inspections Solve Infrastructure Crisis in the US?
On Jan.28, the unexpected happened…the Fern Hollow Bridge in Pittsburgh's Frick Park collapsed.
The bridge – which accommodates approximately 14,500 vehicles per day – fell at 6:39 a.m., mere hours before President Biden's scheduled Pittsburgh stop to speak on, of all things, infrastructure improvement.
The collapse injured 10 people but, thankfully, there were no fatalities.
That's miraculous, considering rescuers rappelled nearly 150 feet to reach the city bus trapped the in ravine below.
Not only did the collapse strand thousands of commuters, it also ruptured a natural gas line in the area.
Had the bridge collapse happened only 30 minutes later, during rush hour, things may have been different.
The incident showcases the importance of both bridge inspections and ongoing maintenance. Although the bridge was inspected, it highlights the dangers of an aging infrastructure, and of failing to maintain it.
Was it a budget issue? Lack of accurate data?
There's no clear answer, as of now, but one thing is for certain – drones offer a unique solution for both.
Let's start with funding.
The American Road & Transportation Builders Association (ARTBA) estimates that over 220,000 bridges in the United States require major repairs.
That's one-third of the 617,000 highway bridges spread across the country.
If you're a thrill-seeker, think about that on your next road trip. Statistically speaking, every third bridge you drive over needs a major repair.
Now, couple that information with the fact that 42 percent of U.S. bridges are over 50-years-old, and you've got a situation where substantial efforts and investment are necessary.
One of those efforts was signed into law on Nov. 15, 2021 – a $1.2 trillion bipartisan infrastructure bill.
Among the many items in that bill — which included environmental remediation and investment in passenger rail  — one specifically included $110 billion dedicated to improvements for roads and bridges.
While states and municipalities continue to hash out who gets what, the next few years will undoubtedly involve a massive increase in spending for the inspection and repair of bridges.
For construction and inspection service companies, the bill represents a financial windfall.
If you're involved in the industry in any capacity, you should stand up and take notice.
Traditional inspection methods are quickly becoming a thing of the past.
With proven solutions for saving time, money, and improving accuracy — all while keeping workers out of harm's way — the unmanned aerial systems (UAS) industry is taking over.
I'll explain why.
Drones Save Time and Money
There are five basic types of bridge inspections: Initial, routine, in-depth, damage, and special.
For those, various inspection methods are used, including:
Visual – used to detect defects with the naked eye;
Acoustical – which requires a chain drag or hammer to identify changes in sound pitch;
Infrared/Thermal Imaging – which examines changes in infrared radiation from the surface of concrete;
Coring & Chipping – which uses a drilled core to create a hole in order to connect to the steel reinforcement and assess corrosion damage, and mechanical and chemical properties of the concrete;
Ground-Penetrating Radar (GPR) – which uses electromagnetic radiation to image the subsurface of concrete and detect changes such as delamination, voids, and cracks.
Now, bridges vary in shapes and size, from short, single-lane structures to the country's longest bridge: the 24-mile-long Lake Pontchartrain Causeway.
In some cases, bridges span hundreds of feet above rapid-moving waters and treacherous land features.
Traditional inspection methods make it difficult and dangerous to inspect them.
In addition to expensive human resources, inspection teams often require heavy equipment, boats, helicopters, and numerous specialty tools to complete a proper bridge inspection.
Even with the appropriate equipment, it takes quite a long time to methodically inspect every inch of a bridge.
But, with drones, you can complete bridge inspections quickly and accurately, regardless of their location, as shown by our own UAS pilot, Wyatt Filipowicz here.
In fact, you can fly your drone around the entire infrastructure — without putting yourself, or anyone else on your team, in harm's way — in a matter of hours.
For traditional inspections, you're looking at shutdowns, heavy equipment rental, and unsafe conditions (think dangling in a bucket under a bridge) for 1-3 days.
Being that bridges require routine inspections — in some cases bi-annually — you need a safer, more cost effective way to do it. Drones allow you to conduct visual inspections from all angles, infrared/thermal imaging inspections, and even GPR inspections.
They're quicker and safer, and you'll get an incredible amount of imaging data.
And, they will most certainly save you time and money.
In fact, in 2019, the American Association of State Highway and Transportation Officials (AASHTO) estimated drones could reduce costs by up to 75%.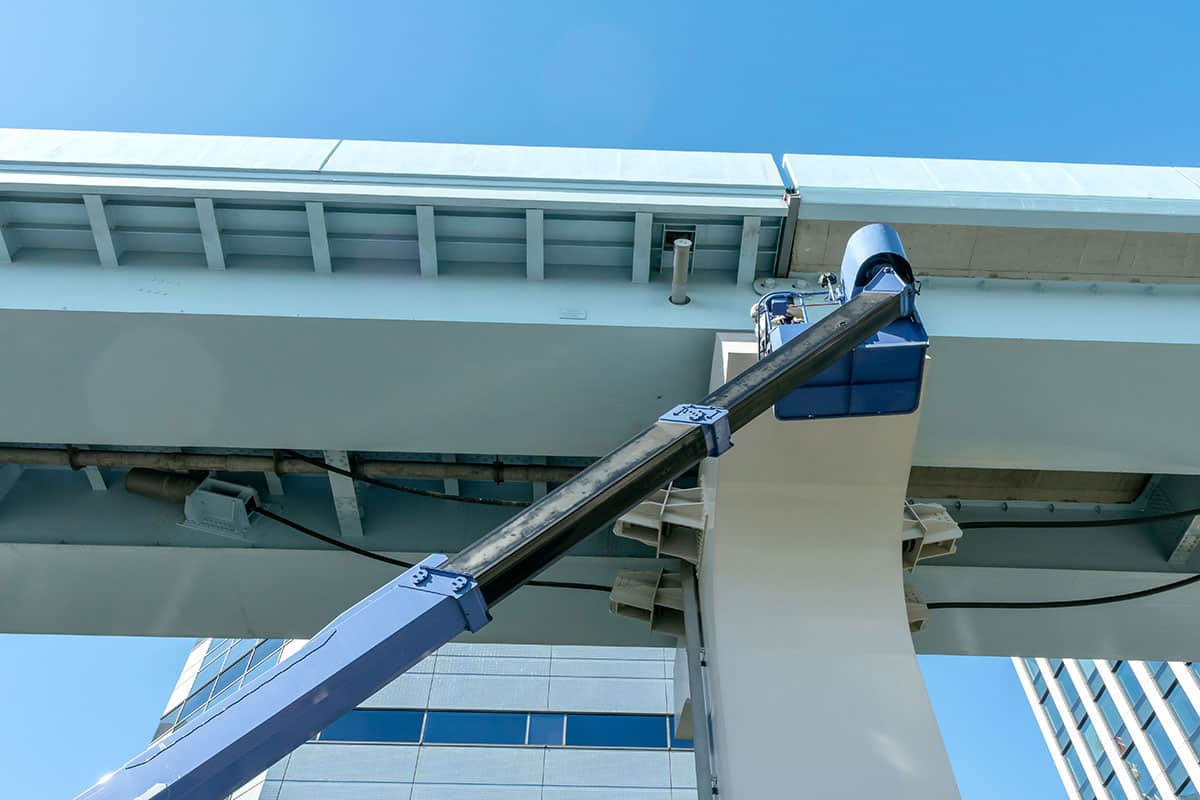 Alright, so I mentioned it a few times. Now, let's get into safety.
Whether it's measured in lives lost, injuries, or financial matters, the cost of safety accidents is staggering.
Hundreds of people die each year in work-related falls, while nearly 250,000 suffer some sort of injury. And, it's mostly preventable.
Even when you do your best to keep workers safe, you'll still incur the cost of medical and liability insurance.
From both an ethical and financial perspective, it makes sense to keep your team out of harm's way whenever possible.
UAV technology provides the tools you need to keep people safe from dangerous situations. Because, well, your feet never leave the ground. The drone gets to the hard-to-navigate spots.
Drones survey those hazardous zones, such as underneath bridges, and capture loads of imagery that you're not likely to obtain during a standard visual inspection.
Before UAS , these inspections required people to use heavy equipment, such as aerial lifts or cranes, or climbing gear.
Now, take into account the weight of that machinery and the fact that you or someone else will be in a bucket hanging under a possibly unstable bridge.
There's no substitute for removing people from danger altogether – and drones do just that.
The current state of bridges in the U.S. is a precarious one.
While drones wouldn't have saved the Pittsburgh bridge from collapsing, they could have opened up more budget for maintenance and provided more comprehensive inspection data.
With one-third of these crucial infrastructure components in need of major repair, the situation is a critical one.
Addressing those needs is going to require billions of dollars, and countless hours.
To make it happen, you need to find a better way.
With this "once-in-a-generation" government funding, there's a real opportunity for investment and improvements.
But, it's going to take the right businesses, the right people, and the right technology.
With drones, you can improve safety & quality, all while improving your bottom line.
Companies everywhere are already taking advantage of this blossoming technology.
Are you ready to join them?
**
About Consortiq
At Consortiq, we help you find a better way with drones and other technology, from consultation and program implementation to actually doing the work for you.
Whether you're in need of building scans, digital twins, aerial surveys, gas-leak detection, or something else, our experienced team has the solution you're looking for.
Ready to learn more? Just complete the form below to schedule a risk-free consultation!
Ready to Integrate Drones Into Your Organization? Contact Us Today to Get Started!