Project FIREDRONE: Consortiq Joins Interreg Europe Project
Black carbon (BC) nanoparticles are formed during the incomplete combustion of hydrocarbons, which takes place during industrial fires.
BC is known to be harmful to human respiratory and cardiovascular health, and it contributes to air pollution and global warming. For robust analysis of the impact of BC, in-situ data analysis (which consists of sensors analysing the data being collected in real-time) is important. However, unsurprisingly, it can be hard to collect in-situ smoke samples during a large scale fire.
Certain types of sensors can provide first responders with information about BC particle size, volume fraction, morphology, and other characteristics. However, few of these solutions are affordable, user-friendly, and standardized enough to be accessible to the first-responder community. Additionally, most sampling methods require someone to go into a hazardous environment, and can only allow for human-height sampling.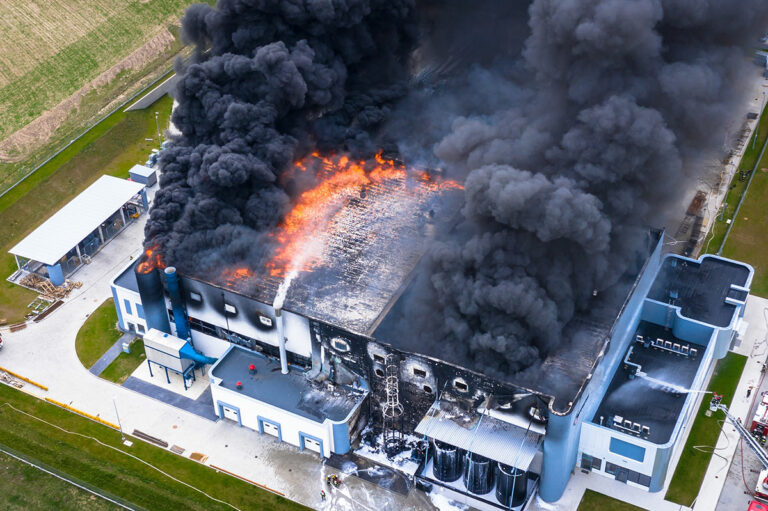 The Solution Offered By Project FIREDRONE
Together, the Project FIREDRONE team will address this challenge by developing a compact airborne system for live monitoring of dangerous emissions in the context of industrial or accidental fires, along with corresponding operating procedures for the system.
FIREDRONE will deliver the following innovative products and processes:
A novel, miniaturized, multi-wavelength, laser-based measuring technique for the characterisation of the concentration, size, and morphology of smoke particles. 

A robust, easy-to-handle drone capable of operating in smoke plumes, which unlike most commercial systems, will be specifically designed to withstand the unique harsh operating conditions presented by fires.

An integrated system that integrates sensor and drone operations and provides firefighters with live fire-monitoring capabilities that can be obtained anytime and anywhere in the smoke plume – a feature that is not available at this degree of detail.

An operations manual that prescribes the safest and most effective procedures to be adopted by emergency services teams when using the aforementioned system in a fire accident scenario.
Together, these deliverables will comprise one fully functional prototype, which will enable faster, cheaper analysis of particles in fire smoke, compared to existing solutions, while maintaining pinpoint accuracy. 
By publishing scientific articles, technical drawings, specifications, and technical (manufacturing) reports, Project FIREDRONE will make the design of these technologies accessible to both public safety organisations and industry.
In order to promote the fast commercialisation of this technology and reach as wide an audience as possible, the documents will conform to the EU open access policies.
Interreg is a series of programs aimed at stimulating cooperation between regions in and out of the European Union (EU), funded by the European Regional Development Fund.
Project FIREDRONE is part of the Interreg VA France (Channel) England Programme, an EU program set up to foster economic development in the south of the UK and north of France by funding innovative high-quality cooperation projects which have a sustainable cross-border benefit in the Programme's eligible regions.
All together, the FIREDRONE Project has a budget of 1.9 million Euros, 1.3 million of which is provided by the France (Channel) England Programme.
Consortiq is the Unmanned Air Systems (UAS) division of The Diplomat Group, LLC, a multi-discipline business concern registered in the United States.
For over 40 years, DFS has been providing logistics support, technical and professional services, integrated autonomous solutions, engineering, fast-track turnkey design-build and construction management to the United States government, foreign governments, NGOs and the private sector internationally.
Consortiq equips governments, organisations, and NGOs with the expertise and tools they need to utilise UAS (drone) technology. From consultation to unmanned data services, to internationally recognized, award-winning training, Consortiq supports clients from proof-of-concept through implementation.
For more information, visit: https://consortiq.com/.
Ready to Integrate Drones Into Your Organization? Contact Us Today to Get Started!