Breaking Down the Commercial UAV Expo 2021
Each year, the Commercial UAV Expo Americas showcases new product releases, thought-provoking presentations, and discussions on the current and future state of the UAV industry.
After a year of dormancy due to the pandemic, it returned to Las Vegas, NV, in style.
Taking place at the Mirage Hotel and Casino from September 7-9, the show didn't disappoint. The Commercial UAV Expo 2021 offered a great opportunity to reconnect with others in the growing drone ecosystem. 
This year's show featured over 2,600 registered participants, 130 exhibitors, 150 presenters, and 12 new product launches. While it's a little bit of a dip from the last in-person expo in 2019, the numbers are strong, all things considered. 
Event organizers ensured proper precautions, including mandatory masks and reasonable social distancing. It made for an enjoyable experience while still allowing to connect with other industry professionals.
If you weren't able to attend, here's your chance to catch up on some of the key highlights of the experience.
In addition to speakers, workshops, and exhibitors, the expo organizers partnered with Grip Event Networking to make participant interactions more streamlined.
Using a downloadable smartphone app, conference attendees could connect with others in the industry, set up meetings with exhibitors and speakers, and set schedules for attending workshops and demonstrations.
There was even a match-making feature that suggested connections of possible interest and allowed for texting one another over the application.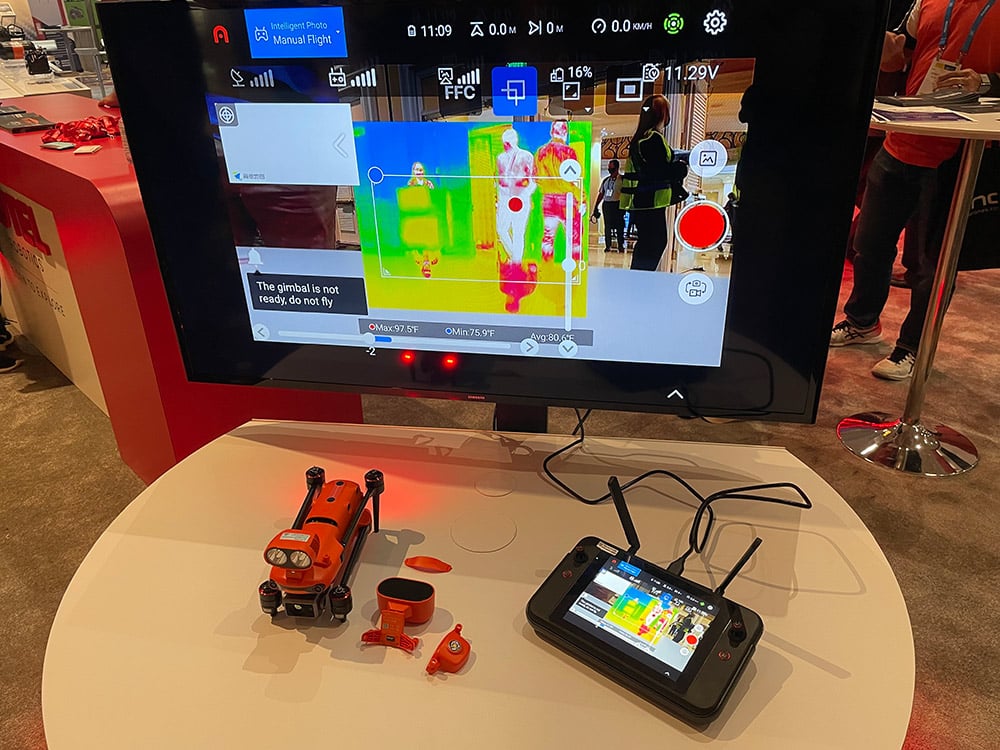 Throughout the Commercial UAV Expo 2021, speakers from all corners of the drone industry shared their insights on current and future issues.
Some of the heavy hitters at the conference included DJI, Skydio, Parrot, Autel Robotics, FLIR, Wingtra, Volatus Aerospace Corp., and Las Vegas-based BRINC Drones.
Several higher education centers were also present, verifying the growing interest in earning degrees related to the UAV industry. Examples include the University of North Dakota, Fullerton College, and Capitol Technology University (who now offers a PhD in Unmanned Systems Applications).
Kicking things off, keynote speaker FAA Administrator Steve Dickson communicated the importance of cooperation in shaping the use of national airspace. According to Mr. Dickson, "To get value out of the [UAV] technology, we need to work together. The FAA doesn't want to make rules in a vacuum; we want you to stay active in the process."
In addition to working with the FAA, the administrator stressed the importance of operating responsibility in the growing industry. For the FAA, safety and the public's perception can't be overlooked.
"Safety is a journey, not a destination," stated Mr. Dickson. "Safety is our top priority, but it should not be a barrier to moving forward."
Drones: Faster than the Speed of Bureaucracy
The administrator's comments come at a time when our industry is, at least in the United States, moving faster than policy. As another presenter put it, "The FAA moves at the speed of bureaucracy."
Advances in everything from software to sensors have pushed drones' capabilities well beyond what many governments allow UAVs to do within their airspace. It's created a frustrating environment where the full potential of drones often feels repressed.
According to AgEagle CEO Brandon Torres Declet, "We are past the proof-of-concept phase. The issue isn't technology, it's regulation."
Anyone familiar with the industry would almost certainly agree.
With Beyond Visual Line of Sight (BVLOS) and Artificial Intelligence research way ahead of current FAA and FCC limitations, the regulatory environment is upsetting for many UAV pilots.
Companies pushing the envelope of possibilities for drone technology echoed this feeling at this year's Commercial UAV Expo.
One such innovator is San Francisco, CA-based Zipline.
For years, the company has made headlines for its success with medical supply delivery programs in countries like Ghana and Rwanda. COVID even brought about limited operations in the United States; however, regulations make domestic scalability a challenge.
With successes in places like Ghana due in part to more favorable rules regarding airspace, Zipline has already proved the technology for covering entire countries with autonomous drone deliveries.
Unfortunately, the speed of regulations isn't keeping up.
Zipline's General Counsel, Conor French, voiced his frustration, stating, "We can't wait years for rules to be established."
This opinion was shared by many speakers at the Commercial UAV Expo 2021. 
Still, Administrator Dickson was optimistic about what's to come in the near future to help the industry take full advantage of drone technology. And, many in the industry predict explosive growth once BVLOS is approved.
It's a slow process, but one Dickson sees coming soon and being more streamlined than previous Part 107 waivers.
"We need standard rules for BVLOS and not ad hoc waivers," Dickson said.
Pitch the Press (and New Products)
Several new and exciting products were featured at the expo.
One was a new drone developed by Velary, the Lift 10. Started five years ago, the company focused its designs on drones for BVLOS operations, primarily for public safety customers.
The Lift 10 uses a hybrid powertrain making it capable of over four-hour flight times. Not only that, but it can do it while carrying a payload of 10 kilograms. Velary's latest drone is ready to empower public safety teams for intense missions, such as search and rescue and firefighting.
One of the most exciting events was 'Pitch the Press'.
According to Lora Burns, the UAV Expo Americas Marketing Manager, "Pitch the Press is a unique opportunity for exhibitors to present their products to a group of editors and reporters looking for the most unique new technology being showcased at Commercial UAV Expo. Seventeen exhibitors were selected from a pool of 131 companies, in order to share their new product or service during the one-hour event. Each exhibitor gave a brief elevator pitch to members of the media, followed by a one-minute Q&A."
BRINC Drones provided an impressive presentation during the Pitch the Press segment by discussing the LEMUR drone.
The LEMUR is an outstanding resource for SWAT teams and other law enforcement professionals, acting as an impressive force multiplier. Capable of smashing glass, opening doors, and much more, it's one of the most specialized drones on the market.
For more on that, listen to our podcast from earlier this year with BRINC CEO Blake Resnick.
The Takeaways from Commercial UAV Expo 2021
Being back in person for the Commercial UAV Expo 2021 was an incredible experience. With well over a hundred exhibitors and presenters along with thousands of participants, there was something for everyone to love and learn.
With numerous innovations and products pushing UAV technology to new heights, all signs point to continued growth in the UAV industry.
Hopefully, the coming year will see regulators catch up to available technology and allow drones to begin reaching their full potential.
Next year's expo is already in the works and will take place at Caesars Forum in Las Vegas. We hope to see you all there in September 2022!
So, which drone is right for you? And, how do you get started? Do you hire out or bring your drone program in-house?
At Consortiq, we help you find a better way with drones, from consultation and program implementation to actually doing the work for you.
Ready to learn more? Just complete the form below to schedule a risk-free consultation!
Ready to Integrate Drones Into Your Organization? Contact Us Today to Get Started!