2023 Consumer Electronics Show Drone Highlights
New companies, new drones, and even food delivered through the air – CES 2023 demonstrated a variety of incredible industry advancements.
Recently, the sands of the Mojave Desert shone once again with the bright lights of the 2023 Consumer Electronics Show. CES 2023 took place from January 5-8 in Las Vegas, hosting some of the latest innovations within the technology sector.
This year's theme focused on how innovation can address global challenges. 
As we enter 2023, technology definitely has some significant issues to tackle. The global challenges highlighted at CES included supply chain vulnerability, labor shortages, semiconductor demand softening, rising inflation, and increasing interest rates. Innovations like 5G, Artificial Intelligence, autonomy, and UAV technology are ready to address these significant obstacles to progress.
This year, I was fortunate enough to attend the media days, which took place from January 3-4. The sneak peek offered to members of the press and industry analysts definitely brought out the inner tech geek in me.
Exhibitors hinted at some of the latest advances, from AI in cars and household goods to blockchain-based video games. Panels and presentations included the latest releases from powerhouses such as Canon (with special guest M. Night Shyamalan), Sony, and Samsung, to great fanfare.
Let's take a look at what drone tech, in particular, CES 2023 had to offer, and why you won't want to miss next year's event.
CES 2023 Drone Industry Representatives
The UAV industry typically has a small representation at CES compared to the overall event.
But, although drone manufacturers and service providers don't take up as much space as the likes of automobile and TV manufacturers, their impact remains significant.
Additionally, CES 2023 had a strong representation from sectors affecting UAV technology, such as AI and autonomy.
Participants in the drone space this year included Autel Robotics, Sony, Skydio, Marine Drone Tech Inc., DroMii, and more.  
That said, DJI was noticeably absent from this year's event. In 2020, DJI was added to the U.S. Commerce Department's list of companies associated with human rights violations. Although details are still coming out, some sources are reporting the consumer drone giant was banned from exhibiting at the show because it remains on the list.
One of the largest drone-related booths at CES 2023 was the Autel Robotics display.
Autel's booth included a cage for flying EVO series drones, several display tables, meeting space, and a few new additions to the company's growing family of drones and related equipment. 
The displays featured Autel Robotics' complete product line, from the EVO Nano series to the Dragonfish. Of all the company's offerings at the show, I found three to be the most interesting. 
The first was the brand-new EVO Max 4T, making its first public appearance on the first day of CES 2023.
Like other EVO drones, it's designed as a lightweight, portable, folding drone. The UAV features anti-jamming and anti-interference hardware, flight times of up to 42 minutes, an IP43 rating, and an incredible 12.4-mile transmission range, among other features.  
But, most impressive of all is the EVO Max 4T's payload, which includes a wide camera, 8K 10X zoom camera, thermal camera, and laser rangefinder. This drone can support a wide range of use cases, and is worth looking at for your next drone purchase.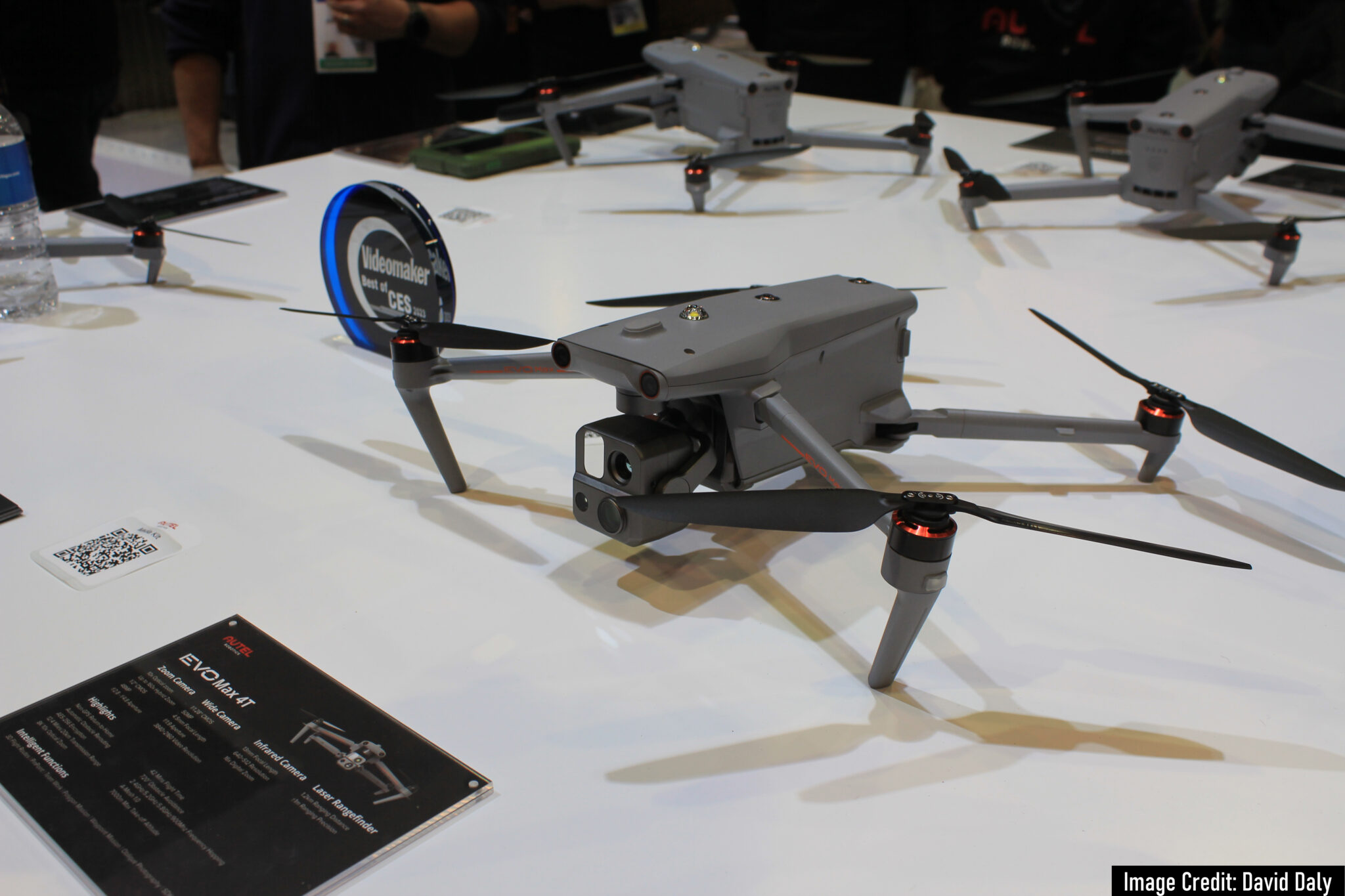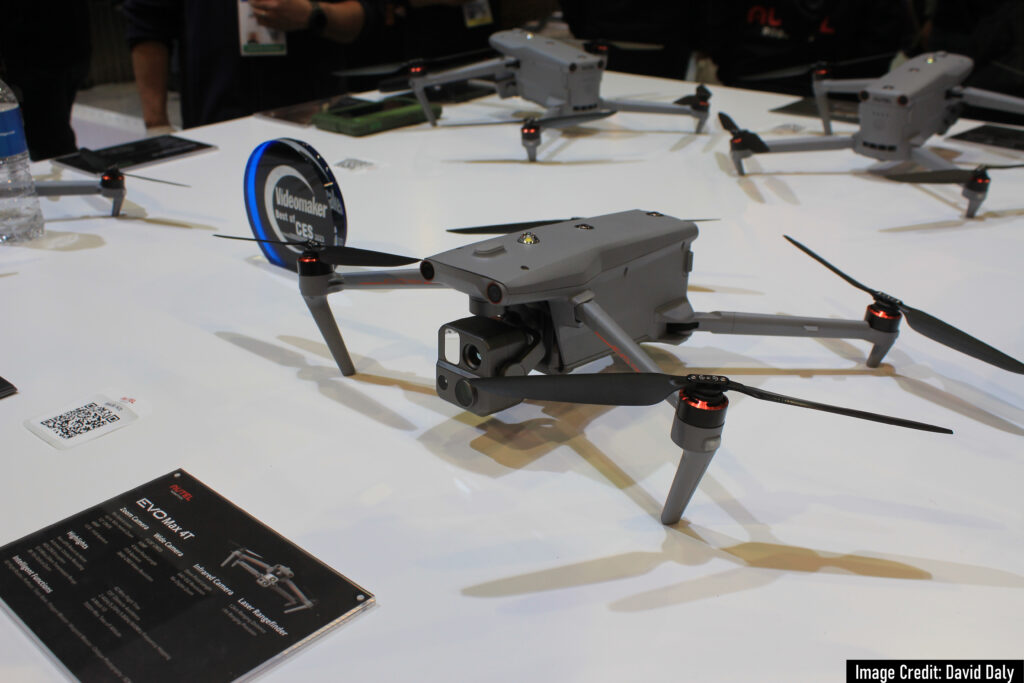 2. EVO Nest: Autel's Drone-in-a-Box Solution
The second offering of note was the EVO Nest.
The EVO Nest is Autel Robotics' drone-in-a-box solution. Together, the EVO Nest and its EVO drone represent a complete remote operations system. As a drone-in-a-box, it's ideal for inspections at locations such as solar panel farms, bridges, and construction sites. 
Multiple EVO Nest systems can be networked to work together, and are transportable, weighing only 132 pounds. The system is designed for rough weather, supports AES 256 image transmission encryption, and can charge an EVO II from 10% to 90% in just 25 minutes.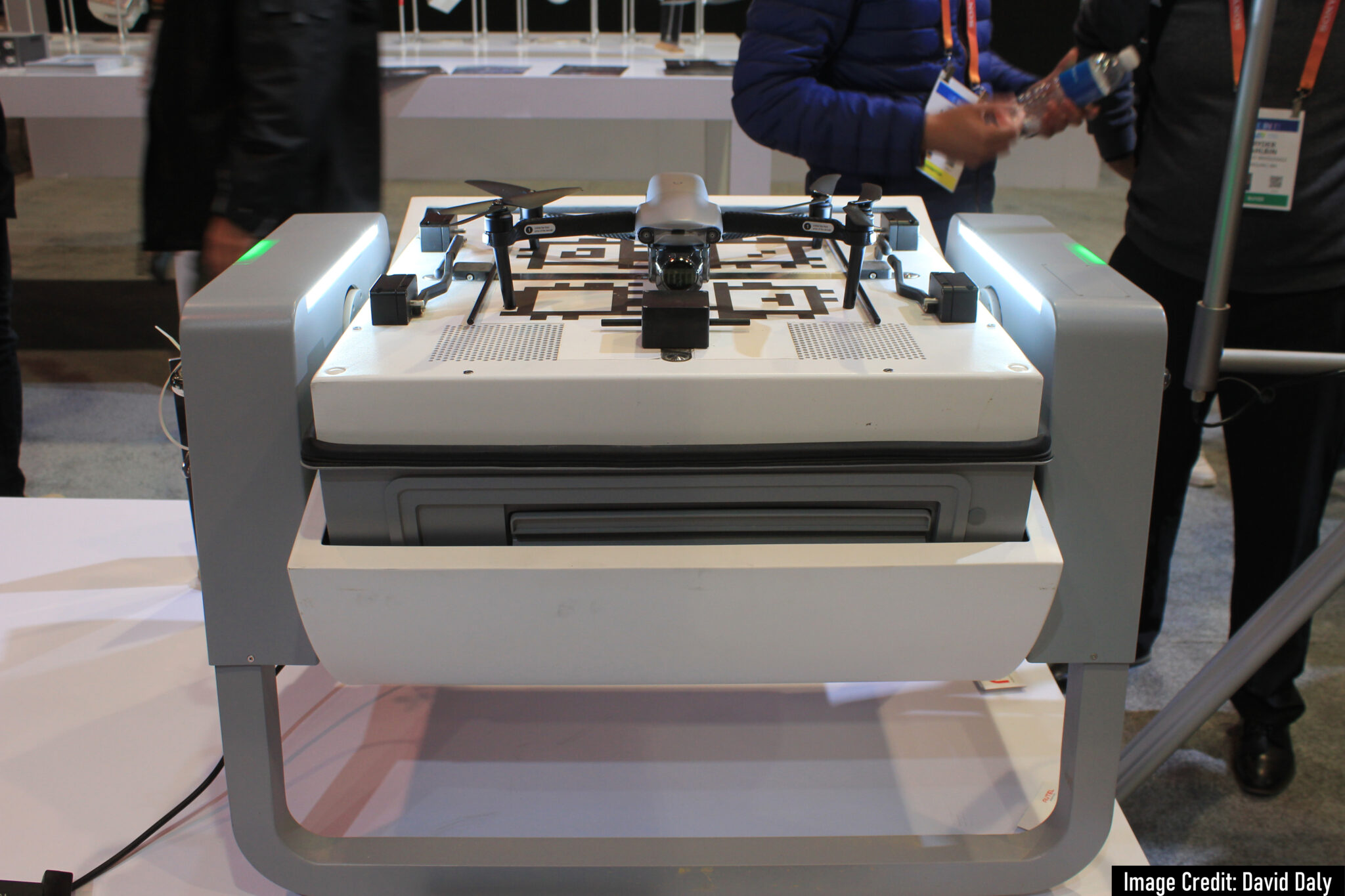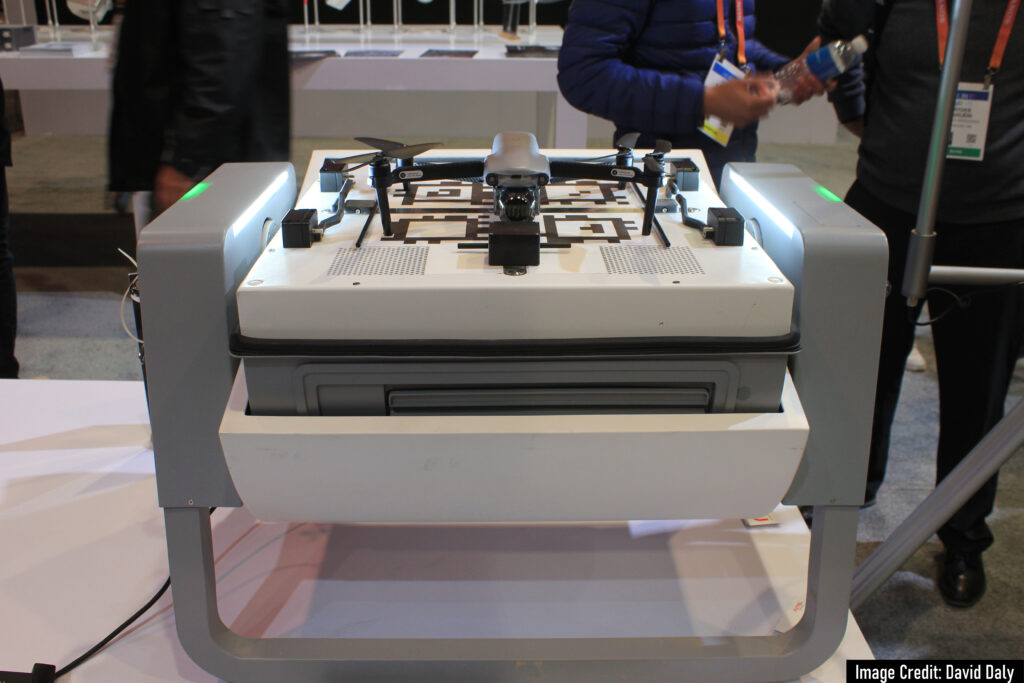 3. The Dragonfish Nest: Bigger & Bolder
Finally, there is a nest system for the company's largest drone, the Dragonfish. For it, think of a drone-in-the-box on steroids.
The Dragonfish Nest has a range of up to 75 miles, and supports the unique long-range, tilt-wing VTOL design of the Dragonfish. 
The Dragonfish Nest supports auto takeoff, landing, and recharging of the UAV. The box fits on standard pallets for easy transport, has a backup power supply, intelligent data storage & processing, and is waterproof.
If you're in need of a more intense, robust drone system, it could be the perfect option for you. 
All in all, Autel Robotics had an excellent showing at CES 2023, really putting itself on the map for those yet unaware of its marketplace presence.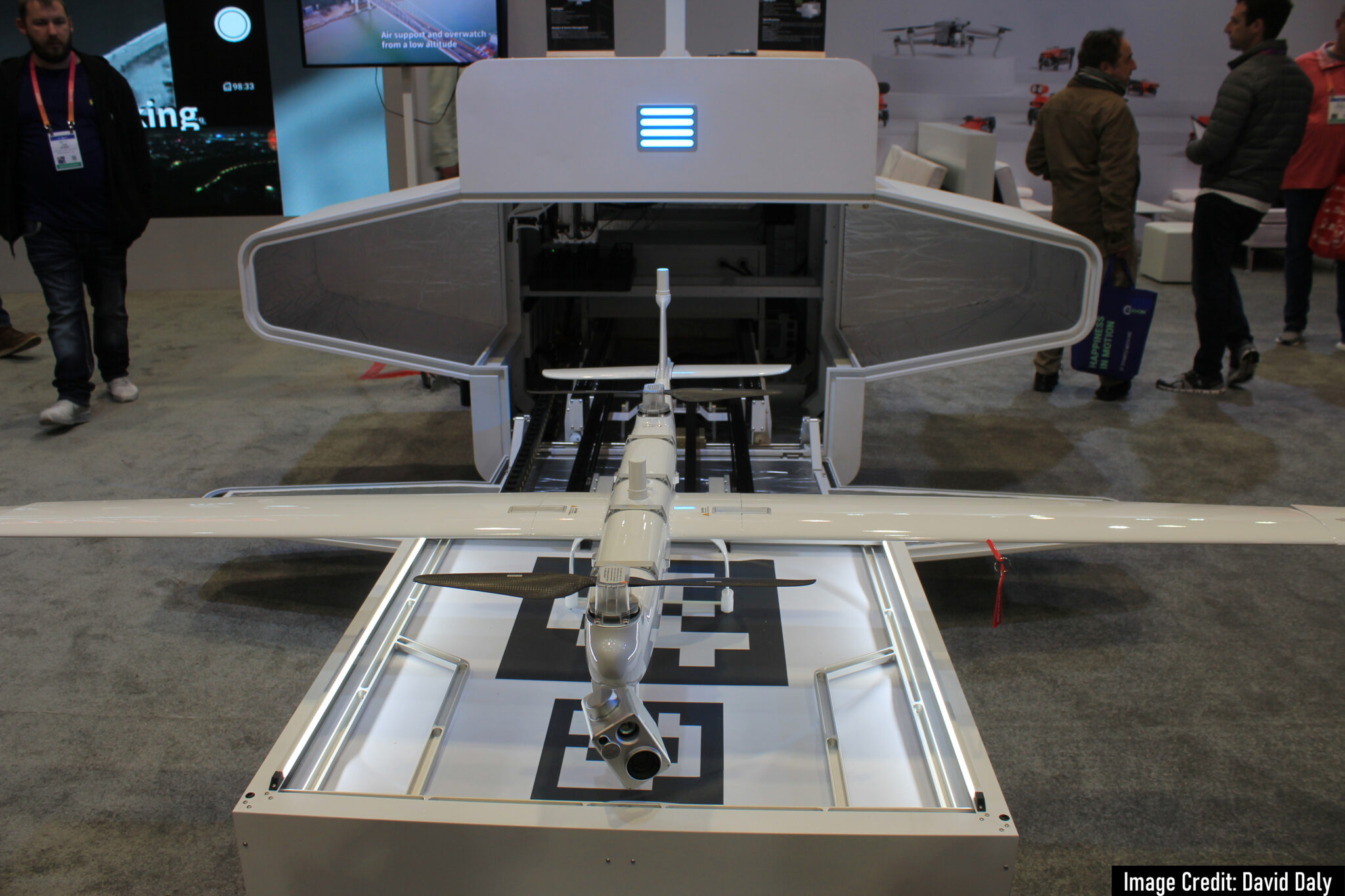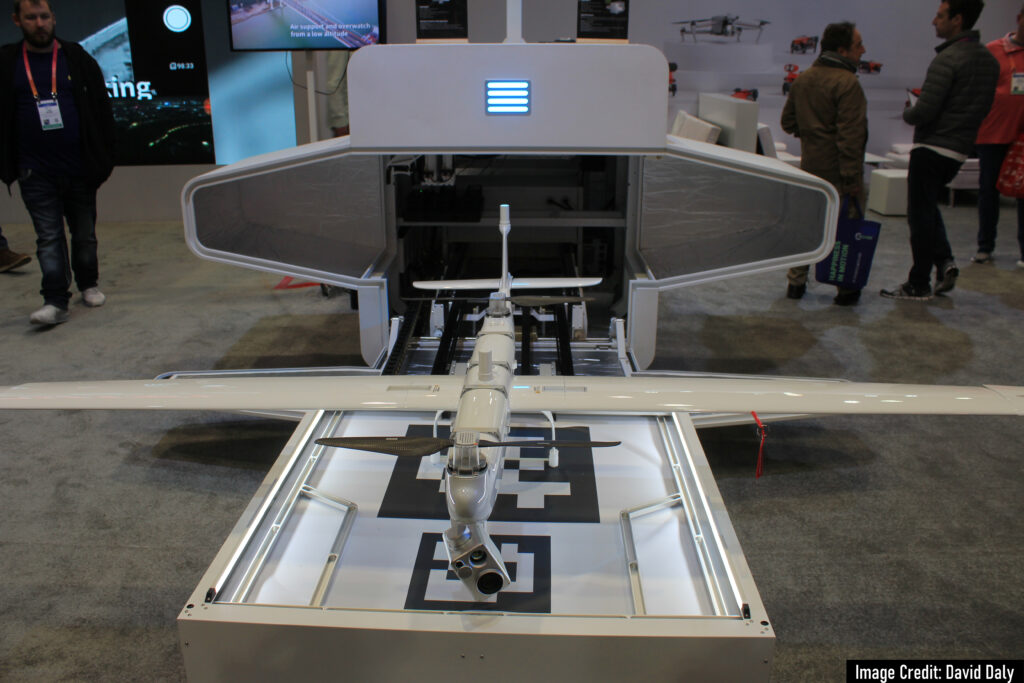 Skydio's Advancements in Autonomy
Also present at this year's show was Skydio.
Selected as an honoree for a CES 2023 Innovation Award in the Drones & Advanced Air Mobility category, the U.S.-based manufacturer continues to impress.
The company's new software update, Skydio Scout, allows operators to fly at a set distance and height, from either the Skydio Enterprise Controller or the Skydio Beacon, while on the move — all without having to manually operate the drone.  
Simply set the location of the drone in relation to the tracked device, initiate 'Scout', and the drone will maintain its position in relation to the device as it moves.
Skydio has made a name for itself in the field of autonomous drones, and it seems like every year their drones become more capable at performing complex tasks without pilot intervention. 
While it only took up a small portion of Sony's floor space at the CES 2023 show, the company's Airpeak S1 drone made an appearance.
Released in the fourth quarter of 2021, the Airpeak is a well-engineered machine for cinematography.   
With a max speed of 55.9 mph and a max flight time of 22 minutes, the Airpeak remains the smallest drone capable of carrying a full-frame Alpha series mirrorless camera.
Creators will appreciate the drone's Dual Operation Mode, which allows for independent control of the aircraft and gimbal/camera.
Sony's display also introduced a charging station for Airpeak's new batteries. The station can hold up to eight batteries and charge four at a time. There is also space for two additional standby batteries that can be swapped out as needed.
Batteries at a 5-10% charge can reach 90% within 30 minutes. Hookups for accessories like the remote and an iPad are also included, with the cost of the system just under $2,900.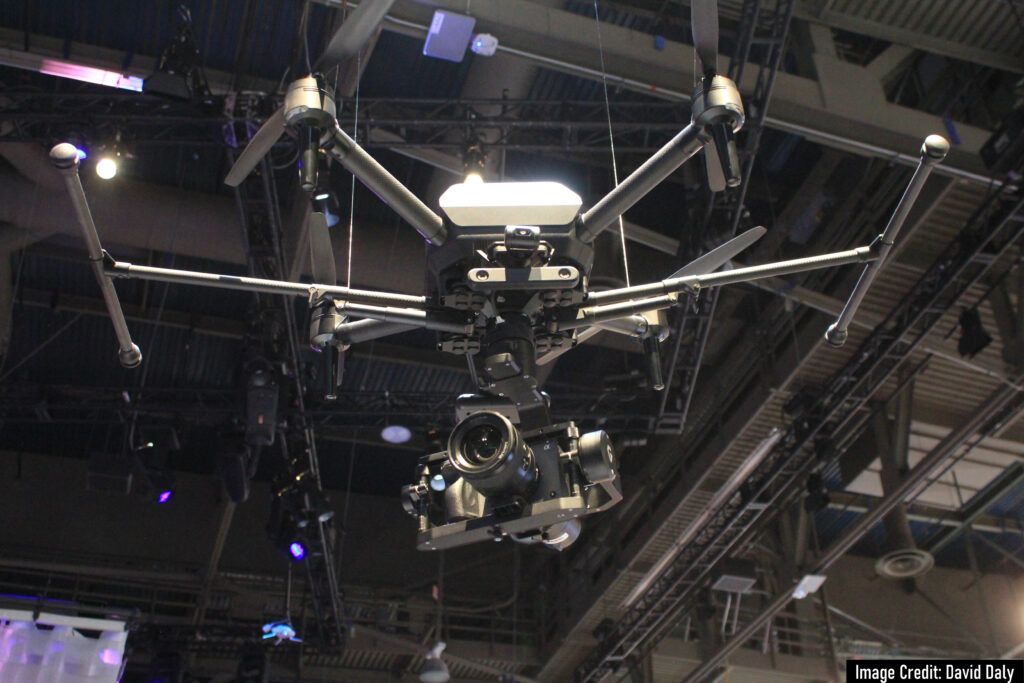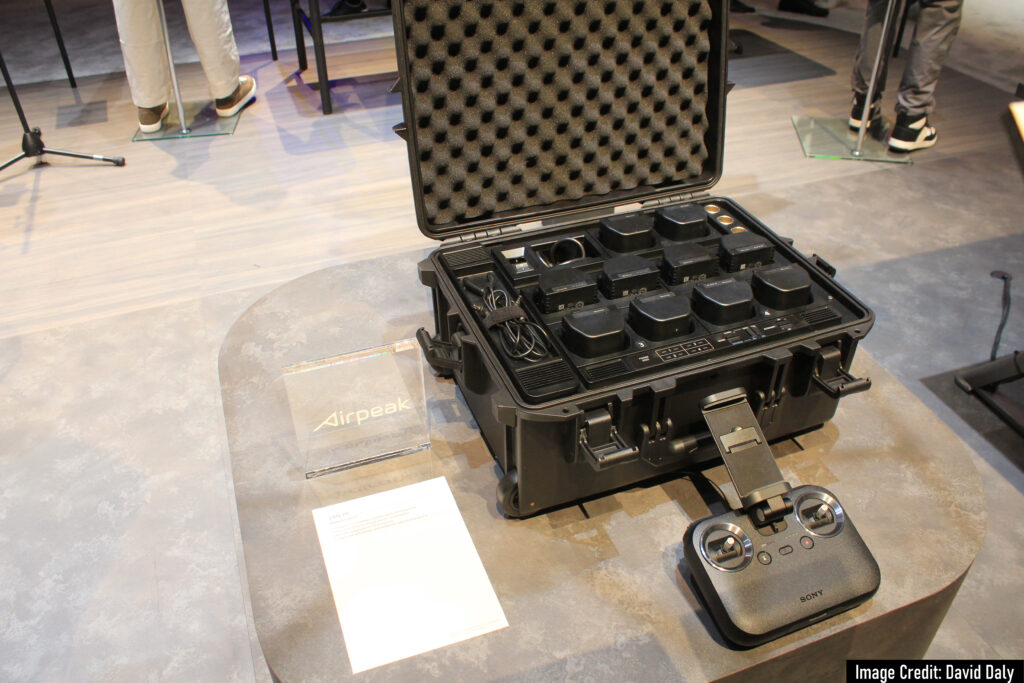 Maritime Drones Serving Lunch
A new and interesting exhibitor at CES 2023 was Marine Drone Tech, based out of South Korea.
The company focuses on drone delivery services, and was born out of the many challenges presented by the COVID pandemic. 
Before COVID took the world by storm, South Korean ports benefitted from thousands of sailors coming onshore and spending their money at local restaurants. As the pandemic grew, sailors were confined to their ships, and restaurants lost the revenue from this lucrative market. 
Thus, a major opportunity presented itself.
Marine Drone Tech realized that UAVs could bridge the gap between sailors stuck on their vessels and the restaurants looking to feed them. Now, sailors in some of South Korea's largest ports can order local food through the company's website, an app, or by scanning QR codes. The food is then delivered to the ship with Marine Drone Tech's drones, arriving hot and ready to enjoy.
Who's ready for some take-out?
Also presenting at CES 2023 out of South Korea was DroMii Co., Ltd. Here, they demonstrated how their innovative drone and software combination benefits those in the road maintenance & engineering world, as well as nearly everyone who drives.
The health of roads worldwide varies greatly, even within a single country. And, damage to roads often go unnoticed for prolonged periods, especially in less frequently traveled locations.
Now, pair this with the fact that driverless technology is rapidly improving, and beginning to gain traction worldwide. You see, self-driving cars look for geometric patterns painted on roads to help make split-second automated decisions. And, unfortunately, they can be confused by anomalies such as cracks or potholes.
So, how do you address the issue? Enter: drones &  DroMii.
that drones are the technology to address this issue. Using UAV technology, DroMii analyzes roads and provides the critical data needed for use by road maintainers and self-driving vehicles.
Using specialized spatial data collected by drones and AI-based image analysis technology, DroMii maps road conditions. Their software can "erase" cars and shadows, leaving the viewer with the current conditions of the road and nothing else.
This information can then be used by both self-driving vehicles and maintenance crews.
So, how does that translate into tangible benefits?
Well, DroMii has demonstrated their technique to be so effective, they can improve inspection times and accuracies by up to 10X traditional methods.
In addition to providing end users with accurate data, DroMii's maps are created much faster than manual collection or car-based photogrammetry. The data is so accurate that repair teams can estimate the number of people needed to fix problems before ever going onsite.
It saves time and money while improving the safety of drivers.
Key Takeaways from CES 2023
It's always exciting to see what new technology and innovative uses of existing technology are showcased each year at CES.
With numerous global challenges, drones are well-positioned to address many of the most complex problems.  
Make sure to check out the improved situational awareness of Skydio's Scout, Autel Robotics' EVO Max 4T and Nest systems, Sony's Airpeak, and the innovative UAV tech coming out of South Korea.
I hope to see you all at CES 2024! 
—
So, are you ready to take advantage of drones for your organization? If so, how do you get started? Do you hire out or bring your drone program in-house?
At Consortiq, we help you find a better way with drones, from consultation and program implementation to actually doing the work for you.
Whether you're looking for aerial surveys, mapping solutions, visual or thermal inspections, methane detection, or anything else, there's a drone solution for you!
Ready to learn more? Just complete the form below to schedule a risk-free consultation!
Ready to Utilize Drones For Your Organization?
Contact Us Today to Get Started!