What to Know About the FAA's New Rules For Flying Drones at Night
On Dec. 28, the U.S. Federal Aviation Administration (FAA) announced that it has finalized "final rules" for unmanned aircraft systems – also known as UAS or drones.
There are two "final rules" to be exact: 
Elsewhere, we've written about what the rules mean for remote ID requirements and flying drones over people. In this snapshot, we're going to focus on how it impacts your ability to operate at night, and what it means for the UAS industry as a whole.
What do the current rules say about flying drones at night?
The current rules for the commercial use of drones weighing less than 55 pounds are often referred to as "Part 107."
Finalized back in 2016, these rules prohibit flying a drone at night without a waiver, which clearly outlines factors such as:
How the operator(s) will maintain VLOS throughout the operation;

"See-and-avoid methods" employed to avoid a collision;

Methods the operator will use to maintain continuous knowledge of the sUAS's Location and Movement; and

Training and knowledge verification for all participants in the operation.
For years, Consortiq's drone consultant team has helped clients obtain waivers for special use cases such as operations that involve flying over people, BVLOS operations, and night operations, and we're excited that these use cases are about to be normalized with the operations rule.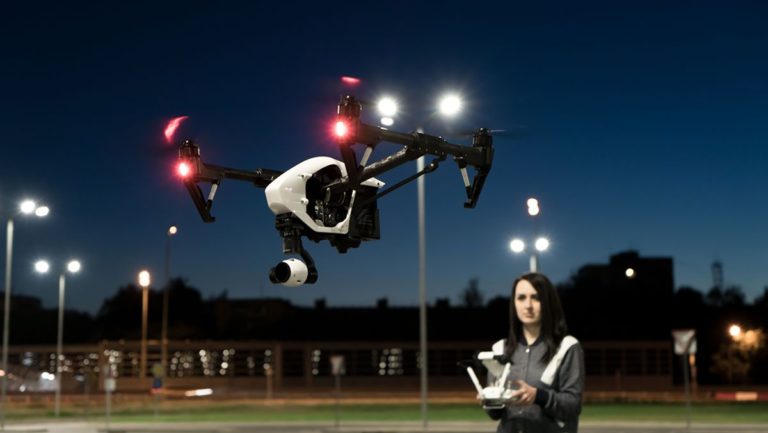 So, can my organization fly drones at night now?
Yes, under two conditions:
The remote pilot in command must have completed a current initial knowledge test ("Part 107") or recurrent training. This is to ensure that he or she is familiar with the risks and appropriate mitigations for nighttime operations.

The UAS must have lighted anti-collision lighting that is visible for at least 3 statute miles and has a flash rate that the FAA deems, "sufficient to avoid a collision."
I heard that the knowledge test rules have changed….
You're right, and we've got you covered!
Check out this article we wrote on the new knowledge test and recurrent requirements.
How do I know if my anti-collision lighting meets the requirements?
Luckily, the final rule states that remote pilots can rely on manufacturer statements indicating that the anti-collision lighting is visible for three statute miles, and has a flash rate that is sufficient to comply with the drone requirements.
You'll just need to include it — along with the procedures, equipment, internal training requirements, and other key information — in your organization's operations manual. 
Night operations waivers have been, by far, the most commonly granted waivers by the FAA over the past few years.
In a previous article, we outlined some high-value use cases that require nighttime drone flights.
These include:
Emergency response, which can be needed at any time of day,

Thermal sensor inspections, which are sometimes best done at night, because the temperatures of objects change once the sun goes down,

News and cinematography footage collection, which can require the documentation of an event that happens to take place at night.
These are just a few examples of instances in which nighttime drone operations could be desirable, or even necessary. By largely removing the need for nighttime operation waivers, the new drone rule could catalyze the expansion of drone use across a variety of sectors.
Ready to take your drone program to the next level? Whether you need training, consultation, and even someone to help you do the work, we're here to help!
To schedule a drone consultation, just complete the form below!
Ready to Integrate Drones Into Your Organization? Contact Us Today to Get Started!