Drones in Oil and Gas: Safe, Fast, Effective
The oil and gas industry is one of the largest branches of the global economy.
About the Oil and Gas Industry
According to IBISWorld, annual revenue for the sector in 2019 clocked in at $3.3 trillion, almost 4% of the global GDP. It includes many of the world's largest companies, including Royal Dutch Shell & Exxon Mobil.
In fact, in 2019, six of the top ten companies appearing on the Fortune Global 500 list came from the oil and gas industry.
While its profits are among the highest in the world, turning natural resources into usable products is expensive. Operating margins for the sector vary, but they often exceed 30%. Beyond the operating budget, significant capital investments, such as oil refineries, can cost billions of dollars.
The United States Central Intelligence Agency estimates that there are over 3.5 million kilometers of pipelines around the world. Pipeline systems include a wide range of supporting and processing facilities, such as pumping stations, refineries, regulator stations, and final delivery locations. 
The infrastructure required by the industry constantly requires inspection and maintenance. Given the dangerous nature of some facilities, and the remote locations of pipelines, that level of upkeep creates a significant challenge.
That's where using drones helps most.
Drones offer the oil and gas industry several powerful benefits. The majority of which fall into three categories: Cost savings, improved inspection capabilities, and increased safety.
In some cases, the benefits of using unmanned aircraft systems (UAS) fall into multiple categories, making drones even more attractive to oil and gas firms.
Let's break it down.
Cost Savings
Bringing oil and natural gas to market occurs in three phases: Predrilling, drilling, and production. Drones are capable of lowering costs throughout the entire process.
In predrilling, a drone's aerial feed aids in the exploration of new drill sights.
Traditionally, manned aircraft perform this task. However, unmanned aerial vehicles (UAVs) operate at a fraction of the price. Given the lower cost, it's much more economical to use several drones, as opposed to a single helicopter or plane.
During the drilling and production phases, perhaps the most considerable cost savings come with decreased downtime. When humans  conduct manual inspections, facilities often require temporarily shut down for safety reasons. Drones perform many of the needed inspections without stopping production, and with minimal disruption.
Less downtime translates into higher profits.
Improved Inspections
Drones are revolutionizing the way the world conducts inspections. One of the most promising areas for UAVs in the oil and gas sector is in pipeline inspections.
With millions of kilometers of pipelines across the world, it takes a small army to inspect and maintain these structures. Inspections conducted with human eyes are slow, and provide far less detailed information than UAS. Drones can quickly fly over a section of the pipeline and, in real-time, present the operator with a clear picture of the structure's condition.
Furthermore, improvements in UAV sensors are bringing pipeline inspections to new levels. Specialized payloads can inspect in thermal and multispectral imaging. Some sensors are even capable of detecting gas leaks.
A single drone flight can provide much more information than a human alone ever could.
Increased Safety
The oil and gas industry can be a dangerous.
Flammable chemicals, toxic fumes, pressurized gases, and a wide array of industrial equipment make for hazardous conditions. Additionally, oil is found in many regions of the world where political instability increases the risk for all parties involved.
Recent: Debunking the Myth About Drones
Drones ably operate in areas where humans could sustain injuries. High structures and confined spaces are common in oil and gas processing facilities. Drones can maneuver into tight spaces without risking injury to team members, which might also lower insurance costs.
Some UAS, such as Flyability's Elios drone, provide several safe, cost-effective solutions in this sector. This small drone operates in a spherical cage, allowing it to run into objects without interrupting flight. Drones like the Elios remove the need to have people place themselves in harm's way while still gathering the needed information for analysis.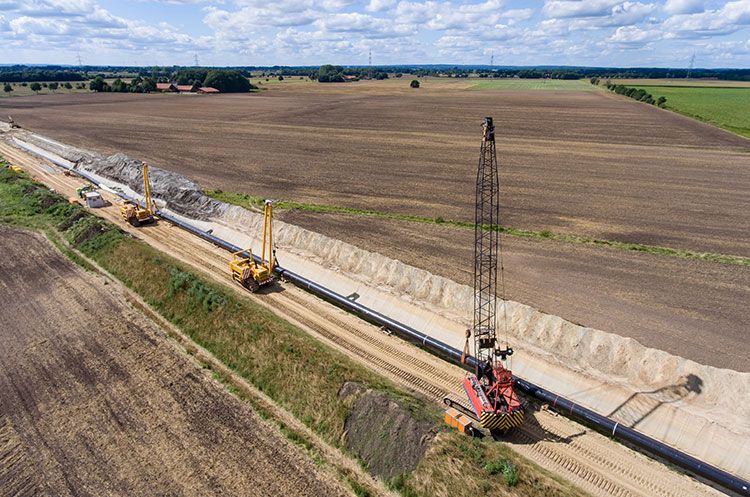 Creating a Safe, Effective UAS Program
When implemented properly, UAS technology brings together the key benefits of common inspection methods, such as low-level helicopter flights and first-hand human data collection, while shedding most of the associated risk, cost, and time demands.
UAS technology is more widely available now than it's ever been, but proper commercial use requires you to go far beyond just buying, unboxing, and taking flight. 
Before anything, it's vital to understand exactly how UAS can benefit your organization. What data can this equipment help you collect, and what kind of value does that information have for your business?
You may already have access to this data through methods with higher costs, longer lead times and more corporate risk – so where can a UAS deliver a better return on your investment?
Answering questions like these will help you to define an achievable objective, and that's the first big step in successful UAS implementation.
You'll then need the skills, capabilities and supporting processes to proceed safely, efficiently, and legally.
These are daunting ideas, but they're well worth navigating properly – and that's why Consortiq exists.
We are market leaders in providing custom UAS training and consultancy services for businesses in the Oil & Gas, Energy and Utilities sectors. With our help, the incredible transformational effect of drones on your business is easily achievable.
Consortiq represents the highest standard in UAS training, having been at the forefront of the industry since regulations began taking shape around 2014.
Our goal as training providers is to equip your business and its employees with the skills and knowledge necessary to use these technologies safely, effectively, and legally.
We also realize that not all users are the same.
Our training services explore applications and skills relevant to the needs of your business. So, whether you're focused on inspections, research or something else entirely, we can make sure you're ready, confident, and fully compliant.
Ready to get started? Complete the form below for a risk free consultation!
Ready to Integrate Drones Into Your Organization? Contact Us Today to Get Started!