Here's How Drones Help with Asset Protection
Like it or not, stolen property affects us all. There's no escaping it.
No matter the size of your business, theft looms as an ominous, heavy cloud, threatening to derail even the most carefully planned budget or schedule. 
And although it's something nobody wants to acknowledge, it's no secret: a global black market exists in the trade of stolen property.
Whether it's a small-time crook ripping off $10 worth of cold pills or a multi-national gang stealing millions, theft is big business.
So, just how much does theft impact businesses worldwide? And, can you stop it?
With drones, you can.
The Tragic Impact of Theft
Between $10 billion and $30 billion.
Every year, the cargo and shipping industry loses this incredible amount of money due to theft.  Money difficult to recover, if you can recover it at all.
Another easy target? Supply yards around building sites.
In the United States alone, up to $1 billion in materials and equipment are stolen each year.
Hoping to get it back? Think again.
Less than 25% of stolen goods from construction sites are ever recovered.
What makes the issue so difficult, is that no matter the country, law enforcement agencies lack the resources to recover stolen property effectively.
In the United Kingdom for example, less than half of all stolen vehicles are ever recovered. In the United States, the recovery rate for all types of stolen goods is only 28.9%.
Without proper monitoring, odds are not in your favor.
In an even more disparaging statistic, consumable goods – such as those stolen from supply yards – are recovered only 8.3% of the time.
When facing impossible numbers like these, is it even possible to avoid huge financial losses?
It is.
Asset Protection with Drones
Asset protection experts insist on both a combination of inventory tracking and security cameras to deter thieves. It sounds easier said than done, but it's easier than you think.
When it comes to asset protection, you focus on deterring and recovery. Both of which are accomplished with drones.
Drones are quick to deploy, require minimal manpower, record video/photos for prosecuting thieves, and offer significant return of investment (ROI).
The ability to quickly deploy these surveillance assets across large areas is crucial to protect large supply lots. This is especially true in areas such as shipping ports, airports, and construction sites.
Drones easily cover several square miles of space in a matter of minutes.
And contrary to what you're probably picturing, in some cases, drone pilots aren't even a requirement.
Operators can simply program in a predetermined flight path and monitor the video feed remotely. In fact, many drones used for surveillance can be deployed in under a minute.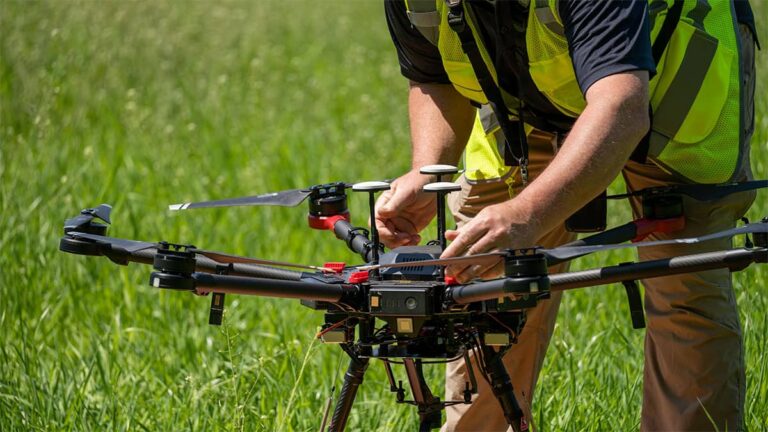 Why Drones are Better than Alternatives
If your business or job site covers a large area, protecting your inventory probably requires a largeteam of security professionals.
And even if you have a small staff observing video feeds, you still need people on the ground, responding to identified threats.
Drones provide uninterrupted surveillance of assets. Additionally, emerging UAV technology now allows for two-way communication through properly equipped drones.
Potential thieves can be warned that they're being monitored and their actions recorded – almost always ending a theft before it occurs – without any security personnel in the area.
This doesn't just lower the human footprint – it keeps people safe by avoiding confrontations.
With a wide range of payloads, including standard RGB cameras and thermal cameras, drones monitor easily outperform sites monitored by individuals.
Additionally, UAVs are particularly useful at night, when thieves believe the cover of darkness hides them from identification and prosecution.
Drones equipped with thermal cameras effectively pierce the darkness, detecting people otherwise invisible to the naked eye.
Savvy business owners enjoy the ROI realized by adopting drones for asset protection.
Aerial platforms monitoring assets cost a fraction of what even minimum wage security personnel earn in a given year; drones quickly pay for themselves.
The video and images captured by drones can be used to prosecute thieves and recover stolen assets, aiding in insurance claims or legal action against thieves.
When you've a better chance of recovering property, it quickly impacts the bottom line – in a positive way. A single apprehension easily covers the cost of a drone, often, many times over.
The global theft of goods and materials steals billions of dollars out of the hands of legitimate business owners like you every year. Don't allow yourself to fall victim.
When it comes to asset protection, the right combination of vigilance and deterrence is crucial, and drones are impossible to outclass.
If you haven't yet considered using drones to protect your assets, it's time to talk to an expert today.
With drones, it's simply a better way.
So, which drone is right for you? And, how do you get started? Do you hire out or bring your drone program in-house?
At Consortiq, we help you find a better way with drones, from consultation and program implementation to actually doing the work for you.
Ready to learn more? Just complete the form below to schedule a risk-free consultation!
Ready to Integrate Drones Into Your Organization? Contact Us Today to Get Started!