Here's Why Drone 3D Scans Save You Time & Money
When it comes to building and site inspections, there are many situations in which 2D models simply fall… well, flat. They just don't provide the necessary in-depth data.
When those inspections require a lot of time and effort, along with costs associated with equipment and temporary site shutdowns, not getting the information you need just won't cut it.
In the construction industry, alone, workers lose almost two full working days each week solving avoidable issues and searching for project information. And, miscommunication and poor data account for nearly half of all rework on construction sites each year.

Additionally, site inspections cost around $200 per hour. Doing that all manually takes a considerable amount of time, and it normally involves temporarily shutting down your job site.
But, there is a better way – 3D scans that create digital twins.
3D scans, created by drones, provide the user with both high-resolution images and accurate position information, which allows for greater visualization of any building or object.
These 3D models are perfect for various uses, such as tracking the progress of construction projects, facility and structural maintenance, and creating digital twin assets that are always accessible via computer and/or mobile device.
What's more?
Hardware and software advances throughout the UAV industry have led to huge strides in 3D modeling capabilities. With the right equipment, drones provide survey-level accuracy in three dimensions.
Understanding how drones capture and create 3D scans, along with the benefits of this modeling method, will leave you eager to integrate them into your organization.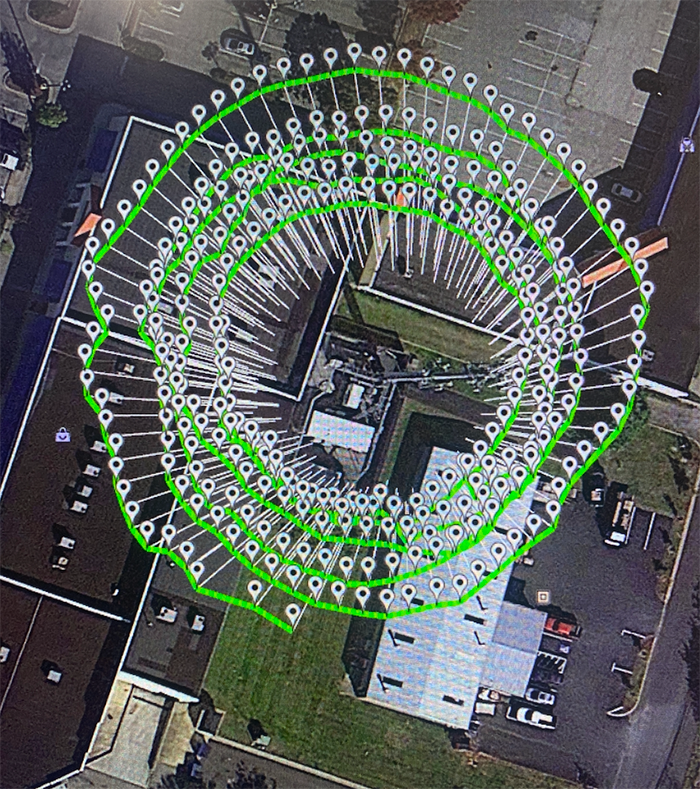 One of the most important benefits of aerial 3D scans for construction planners, architects, and engineers is the ability to generate a digital twin.
Digital twins are exact digital copies of real-world objects. They use Building Information Modeling (BIM) to help architects, engineers, and construction professionals in planning, designing, constructing, and management the development and building of infrastructure.
The scanned copy is updated as the real object changes, ensuring the digital twin always represents the structure in its current state. This type of advanced technology is most often used for buildings, facilities, and critical infrastructure.
Digital twins are great for running simulators as well.
For example, with accurate 3D scans, engineers use the digital twin of a high-rise building to see how it would respond to, say, an earthquake. The engineers then use lessons learned from the simulation to reinforce the structure of the building before any damage occurs.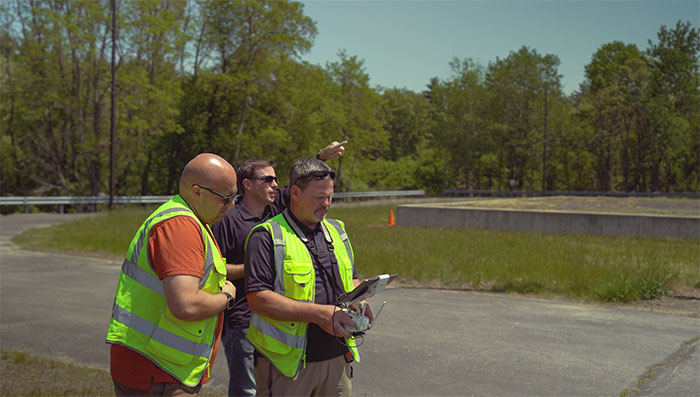 Why Drones are Becoming the Industry Standard
Drones operate with greater efficiency and at a lower cost than standard equipment, which isn't new information.
But, this holds especially true when looking at 3D scans.
Traditional methods of 3D scanning are time-consuming, which leads to higher costs. It requires mobile stations to be set up and constantly moved around to different positions as engineers complete the scan. By nature, it also requires plenty of manpower.
In contrast, drones conduct 3D scans as they fly, without the need to stop and move to new positions. Drones accomplish the scans in far less time, and can even complete the task indoors, if needed.
Having trouble accessing hard-to-reach locations needed for more complex 3D scans? Not a problem. Drones maneuver in and around high-danger areas with ease.
Picture a complicated structure, such as an oil refinery. It would be challenging to move a ground-based or handheld 3D scanner through the complex maze of pipes, catwalks, ladders, and machinery. It would also be very dangerous.
With their positioning systems and AI software, designed specifically for safe flight, drones fly around all areas of the refinery, collecting data the entire time. Neither superstructures at elevation nor confined spaces hinder a quality drone from conducting a 3D scan.
The end results? A greater amount of accurate data for post-flight processing.
 Drone 3D scans provide a safe, quick, reliable, and affordable infrastructure inspection experience.
3D scans with drones are an excellent solution to a vast number of applications and discipline. Their unique abilities outshine all other methods.
There's no reason to spend more time on projects than you should, whether it's because you can't find the right data or you don't have the best resources available. And, you shouldn't have to rebuild structures because they weren't maintained with accurate records in real-time.
With drones, there's a better way.
Consortiq specializes in capturing and creating the 3D scans and models your organization needs, and maintain offices in both the UK and U.S.
Our cameras capture thousands of high-resolution images from multiple angles. With real-time kinematics & LiDAR technology, we increase the positioning accuracy of each image, determine interior locations, and process the images together to present a 3D model.
This, when combined with the use of drones to provide highly accurate and photo-realistic 'mesh' models, creates the beginning of a digital record that is far more than just 'wow' – it's usable, too!
Complete the form below to schedule your risk-free consultation today!
Ready to Integrate Drones Into Your Organization? Contact Us Today to Get Started!